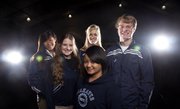 The two senior members of Seabury Academy's volleyball team, to say the least, come from pretty different backgrounds.
In fact, they come from half a world apart.
Coach Chrissy Leuty has coached team captain and local product Angela Thomas for six years, roughly since she was in middle school.
While Thomas essentially grew up playing the sport, Leuty's other senior, Pasang Tamang — a foreign exchange student from Nepal — had never touched a volleyball before last year.
"The first time she came out, she knew absolutely nothing about volleyball," Leuty said.
Both Thomas and Tamang are hard workers, though, and contributed in different ways to the volleyball team's 12-17 record this season, which Leuty said was the best season Seabury has had in more than six years.
"We lost about five close matches that could have gone either way," Leuty said. "But I'm proud of the way we played all year."
Thomas, who was a team captain last year as well, primarily played outside hitter for Seabury this season, but was also praised by Leuty for her setting and strong defense from the back row.
"She was a good leader in her actions," Leuty said. "She hustled, she gave the effort, and she was definitely a good team player."
Since she arrived at Seabury, Tamang has done nothing but improve her game, from putting in the effort in practice to voluntarily attending Kansas University volleyball camps and clinics over the summer.
"She hasn't ever once complained about playing time," Leuty said. "She's always willing to put in the work. She's just an awesome kid."
Though Tamang played sparingly this season, she took part in one of the feel-good moments of Seabury's season.
Against Heritage Christian, Tamang not only found herself in the game, but she was standing at the baseline serving for game point.
"She got the game-winning ace," Leuty said. "The fans and the team went crazy. Everyone was so happy for her."
Seabury's cross country team, meanwhile, was also the benefactor of some late-season dramatics delivered by its two seniors.
At the Class 1A state cross country championships two weekends ago, the Seabury girls finished in fourth place, and the boys team finished in 12th, both very respectable considering the 57 other schools in the field.
Coach Christi Douglas' two seniors, Mai Hua and Scott Kuefler, finished in 81st and 60th place, respectively. Not exactly the ideal conclusion to their careers.
But without either of them, said Douglas, Seabury might not have qualified for state at all.
Hua, in only her first season running cross country, improved her time by three minutes since the start of the year.
"She's very coachable," Douglas said. "Anything I asked her to do at practice or at the meet, she always did it."
On the boys side, Kuefler perhaps played an even larger role in ensuring the boys team made it past regionals.
He ran his best race of the season — a personal record— at regionals to lead the boys team.
"(Scott is) a positive leader for the team," Douglas said. "He showed an outstanding work ethic all year. He always wanted to try to get better."
As the lone senior on Seabury's tennis team, Libby Sutherland was tasked with being the No. 1 singles player for the second straight season.
It's not quite as cushy a gig as it sounds: Sutherland, who faced tough No. 1 opponents all year long, had a string of rough losses.
"It takes a lot of courage to hold down the No. 1 spot and be playing against much larger schools," coach Megan King said. "She worked hard all season, and I think she was proud of the way she played."
Copyright 2018 The Lawrence Journal-World. All rights reserved. This material may not be published, broadcast, rewritten or redistributed. We strive to uphold our values for every story published.