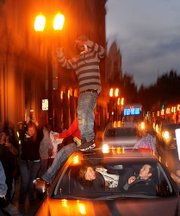 Oakland — Looking out her front window in a usually quiet residential neighborhood in this city, Deanna Goldstein's knees began to shake.
More than 100 protesters were hemmed in by police in riot gear. A trash can was blazing on the street.
"I came home early from downtown to get away from the craziness, but the craziness came to me," she said.
In the past, the violent protests over a white transit officer's slaying of an unarmed black man trashed downtown Oakland businesses. But after Johannes Mehserle on Friday received the minimum two-year sentence for slaying Oscar Grant, angry demonstrators marched into residential areas near Lake Merritt for the first time, putting innocent people in harm's way.
Police arrested 152 protesters, including seven juveniles, on suspicion of crimes including vandalism, unlawful assembly and disturbing the peace.
Oakland police spokesman Jeff Thomason said 56 of those arrested were from outside the city. Investigators will be reviewing video and photographs of protesters damaging property to help prosecutors file charges, he said.
A "Justice for Oscar Grant" community meeting Saturday night at the Olivet Missionary Baptist Church in Oakland drew about three dozen people, including at least one person who was arrested Friday.
Yvette Felarca said she was taken into custody while simply standing in the crowd with a megaphone. "I was arrested for protesting and demanding justice for Oscar Grant," she said.
After the meeting, Minister Keith Muhammad expressed disappointment with the sentence, as well as the judge's decision in the case.
Police said they were not anticipating more violence.
"But we're prepared for it, just in case," said Sgt. Bobby Hookfin. Hookfin did not elaborate on what those preparations were.
Residents who woke up to broken car windows and littered streets were left asking why protesters chose their neighborhood and how it became engulfed in violence.
Nai Saelee, 28, said she was shocked to see that her neighborhood, made up of mostly one- and two-story homes and low-rise apartment complexes, was affected.
The school teacher was kept from getting to her house by a police cordon, and later found the front windshield of her car damaged.
"I'm glad I wasn't here," she said outside her home Saturday, as Oakland city trash collectors made their way through the area picking up debris.
Copyright 2018 The Associated Press. All rights reserved. This material may not be published, broadcast, rewritten or redistributed. We strive to uphold our values for every story published.