Robert, La. — The most ambitious bid yet to stop the worst oil spill in U.S. history ended in failure Saturday after BP was unable to overwhelm the gusher of crude with heavy fluids and junk. President Obama called the setback "as enraging as it is heartbreaking."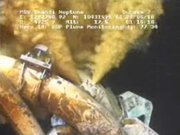 The oil giant immediately began readying its next attempted fix, using robot submarines to cut the pipe that's gushing the oil and cap it with a funnel-like device, but the only guaranteed solution remains more than two months away.
The company determined the "top kill" had failed after it spent three days pumping heavy drilling mud into the crippled well 5,000 feet underwater. It's the latest in a series of failures to stop the crude that's fouling marshland and beaches, as estimates of how much oil is leaking grow more dire.
The spill is the worst in U.S. history — exceeding even the 1989 Exxon Valdez disaster — and has dumped between 18 million and 40 million gallons into the Gulf, according to government estimates.
"This scares everybody, the fact that we can't make this well stop flowing, the fact that we haven't succeeded so far," BP PLC Chief Operating Officer Doug Suttles said Saturday. "Many of the things we're trying have been done on the surface before but have never been tried at 5,000 feet."
Frustration has grown as drifting oil closes beaches and washes up in sensitive marshland. The damage is underscored by images of pelicans and their eggs coated in oil. Below the surface, oyster beds and shrimp nurseries face certain death. Fishermen complain there's no end in sight to the catastrophe that's keeping their boats idle.
News that the top kill fell short drew a sharply worded response from President Barack Obama, a day after he visited the Gulf Coast to see the damage firsthand.
"It is as enraging as it is heartbreaking, and we will not relent until this leak is contained, until the waters and shores are cleaned up, and until the people unjustly victimized by this manmade disaster are made whole," Obama said Saturday.
In the days after the spill, BP was unable to use robot submarines to close valves on the massive blowout preventer atop the damaged well, then two weeks later ice-like crystals clogged a 100-ton box the company tried placing over the leak. Earlier this week, engineers removed a mile-long siphon tube after it sucked up a disappointing 900,000 gallons of oil from the gusher.
Copyright 2018 The Associated Press. All rights reserved. This material may not be published, broadcast, rewritten or redistributed. We strive to uphold our values for every story published.