Before Jason Pendleton could make his way off the field, the Free State High soccer coach embraced two of his seniors, Grace Lang and Mckenzie Liebl. His face held steady and his eyes were completely closed.
It was an emotional night on Tuesday at the Free State soccer field.
The Firebirds fell, 3-2, to Olathe Northwest in the first round of regionals to end their season at 7-9-1. It also marked the final game Pendleton coached on the FSHS sidelines.
Pendleton, who coached the boys and girls soccer programs at Free State for the past 11 years, will take a teaching and coaching position next season at the new Blue Valley Southwest, set to open next school year.
Photo Gallery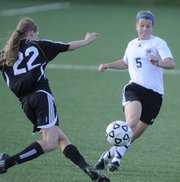 Free State soccer vs. Olathe Northwest
Free State went up against Olathe Northwest in regionals on Tuesday, May 18. Free State lost the game 3-2.
"I'm just grateful to have the opportunity to work with such great kids who have always invested tons of time and energy and bought into what I was trying to do," Pendleton said. "We obviously want to win games and win championships, but at the end of the day, it's about the relationships you build. They're just really awesome kids."
The Firebirds saw their season come to an abrupt ending in heartbreaking fashion.
With 41 seconds remaining in the game, the referee called a foul on Lang for tripping an Olathe Northwest player in the box. The Ravens (6-10) were awarded a penalty kick and took advantage.
Hannah Kaloupek blasted a shot that FSHS sophomore goalkeeper Elena Auer blocked. The ball, still live, trickled five feet in front of Auer. An alert Kaloupek followed her shot and fired the game-winning goal into the back of the net on the rebound.
"It's really tough," Lang said. "I feel like we definitely could have won this game. We had plenty of shots. A few mistakes. One on my part. They capitalized on it."
Pendleton applauded the effort of Lang, who also scored on a header in the first half off a corner kick from Hannah Carlson to tie the game at 1.
"Grace Lang has helped this team more by playing aggressive, dominating and being the sort of the kid who would throw herself over hot coals for us," Pendleton said. "She'd jump into a volcano if she thought the ball was there and she could win it. And 99.9 percent, she makes the right decision. It was just an unfortunate thing there where the kid was trying to make a play to help us win the game. It just worked out where they got a penalty."
Free State's other goal came off the foot of junior Madisyn Warinner, who tied the game at 2 with 26:12 remaining. Warinner made a nifty move to get past several defenders and booted a rocket off her left foot from about 15 yards away that cradled into the upper-left corner of the goal.
"All year, coach P has been telling me to utilize my speed and go after the defense," Warinner said. "I was going to do that and have no regrets. I cut it in, took a shot and hoped for the best."
Pendleton stood before his team following the loss and relayed a few words that appeared to be tough to find, at first. After 11 years of building a soccer program at Free State, it was finally time to say goodbye.
The message he had for his team?
"I've known so many of these kids since they were third or fourth graders," Pendleton said. "The message was thanking everyone for everything they did, and then telling the underclassmen who are coming back that they're so close. This is a program that's ready to explode, and they have some good, talented players who are athletic and are right there on the cusp doing some tremendous things. It's tough to let go."
Copyright 2018 The Lawrence Journal-World. All rights reserved. This material may not be published, broadcast, rewritten or redistributed. We strive to uphold our values for every story published.