Past Event
When: Saturday, May 22, 2010, noon
Where: Downtown Lawrence, Lawrence
Cost: Free
-->
-->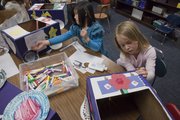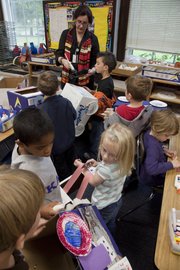 The 13th annual Art Tougeau parade on Saturday will have something for everyone, including some never-before-seen creative conveyances from the national art car circuit.
"This year, we changed our dates so we could be a week after Tulsa and two weeks after the Houston parade," explains Pat Slimmer, "cartist" and event organizer. "We're going to have a lady from Canada called the Gypsy Mermaid. She's really interesting, and we're going to have other out-of-town vehicles that haven't been here previously."
Slimmer, whose bottle cap car, "Plastered," was recently featured on MSNBC.com with vehicles from other cities' art car celebrations, says the visiting folk artists will be shown Lawrence-style hospitality.
"It's great because we help them out with gas money, find them a place to stay with a host family and try to feed them when they're up here," he says. "I've been to other parades - in Houston, up in Omaha and other cities - and it's the same thing wherever you go. Everyone kind of knows each other, you've seen each other at other parades. It's like a big, extended family."
The event isn't limited to the parade Saturday, which starts at noon at the Lawrence Arts Center, 940 N.H. The 2-day celebration "of all things wheeled" begins Friday with an Art Car Cruise to Woodlawn, Deerfield, Sunset Hill and Cordley elementary schools.
"It's a way to get the kids excited about the parade on Saturday, and some of the schools get involved," Slimmer says.
When the Cruise wends its way to Woodlawn, it will be joined by the Sheila Wilkins' kindergarten art class, wearing their own handmade foot-powered art cars (think "The Flintstones").
"We look at some art cars like the Dragon Wagon and the Shark Bike and I just provide the boxes and a bunch of stuff, like die-cut shapes like butterflies or mod flowers," Wilkins says. "We learn about layering large to small. They just enjoy putting the materials on their car. They don't necessarily have a theme in mind."
Woodlawn kindergartner, Reyna Gomez, apparently had no theme in mind as she decorated her car Thursday with an eclectic mix of materials including photos of the White House and Route 66 stickers.
"That's a butterfly with stickers on it," Reyna points out. "And cars and flowers and zebra colors. And a pink bow."
"Mine is a flower star car," says Arwen O'Brien, proudly. "With stars and flowers. I've got to color the wheels and make it more decorated. We're going to ride them around school in a parade."
The Art Car Cruise won't be Arwen's first parade experience. Turns out, she's a veteran at age 6 1/2.
"But I can't remember, it was a long time ago," Arwen says. "But my brother's never been in a parade. He's 2."
Copyright 2018 The Lawrence Journal-World. All rights reserved. This material may not be published, broadcast, rewritten or redistributed. We strive to uphold our values for every story published.