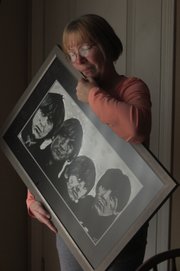 On the street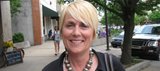 Marcia Brady. I always liked her personality and thought she was fun.
The hottest man on the planet isn't a man at all.
He's looking for his estranged "Baby," even though at 16, he's not much more than a baby himself.
And that's just the way millions of girls like him.
Oh, Justin Bieber, you heartthrob, you, causing riots and leaving faint girls in your toothy wake worldwide.
The cases in point are about as dense as the singer's side-swept hair. They include an incident a month ago, when a free concert in Australia turned into pandemonium and fully outfitted riot police had to be engaged. And then there was the time his manager was arrested on charges of reckless endangerment stemming from a canceled Bieber appearance at a New Jersey mall.
And just in case you didn't think tweens to be a serious set, there's this one: Bombshell reality star Kim Kardashian received death threats when she joked that Bieber was her boyfriend.
What do mothers and, ahem, former teens themselves, have to say about the angel-voiced kid with the wispy hair and penchant for making today's girls swoon?
Pssssh. He's nothing compared to good old Paul McCartney.
Or Leif Garrett. The Coreys (Feldman and Haim). Kirk Cameron. David or Shaun Cassidy. Or even some of the less popular guys from New Kids on the Block.
Yes, kids, mom had a teen idol, too. Someone whose face she plastered on any open plane in her domain, whether it be the walls of her room, the door to her locker or the covers of her notebooks. And your dad probably had a pin-up or two he mooned over, whether or not he was brave enough to display her photo publicly.
There were heartthrobs before Justin Bieber, and no, we're not talking about Joe Jonas. The marketing of teens to teens has been a moneymaker for Hollywood since the days of World War II, says Jeff Kuhr, film and media teacher at Lawrence High School.
"Since the 1940s, the whole phenomenon of the teenager has been pretty prevalent in culture," says Kuhr, who jokes his teen dream was actor and oatmeal pitchman Wilford Brimley. "And once it was determined that teenagers had disposable income, suddenly you have a whole new marketing toward them, from film, from music, as well as television."
Beatlemania
Nobody understood that get-rich dream of marketing to teens better than the mop-topped boys from across the pond: The Beatles.
Sharon Wang of Tonganoxie graduated from the town's high school in 1966, meaning her class was ground zero for Beatlemania. And, boy, did she have a bad case.
"A girlfriend of mine, her father had a record store, so we were able to hear and buy their albums early," she says. "A lot of us favored Paul and several thought Ringo was special. My locker and books had Paul's picture on them."
Paul as in Paul McCartney, of course. Wang says that she had so many photos of the Beatles plastered on the walls of her room that her father jokingly treated them like their namesake pests.
"My father, he would say, 'Oh my gosh, I've got to use insect spray every time I come into your room because of the Beatles,' " she says.
And the Beatles easily transcended age groups, winning over not only high school girls, but also girls who wouldn't get their diplomas until well after the band had broken up.
"Back then, everybody had their favorite Beatle," says Lawrence's Rhonda Marshall, 55, who graduated high school in 1973, and says her favorite was Paul. "He was the cute one."
Bad boys
The year Marshall graduated from high school, Kate Zylstra also had a dark-eyed dream boat on her wall. He just wasn't the type of nominally safe guy her friends swooned for.
"Nothing freaked my mother out more at the time than me having a particular glossy black-and-white photo on my wall. The thing is, it is 1973, and I am 11 years old. The photo is of a young Al Pacino from the film, 'Serpico,' " she says. "He had long, shaggy hair, beard, mustache and — gasp — an earring. My friends had posters of Shaun Cassidy and Leif Garrett. No boys for me."
Zylstra says now that she's a mother herself she looks at her tween crush in a much different light.
"Being a mom, now, of a 15-year-old son, I'm thinking ... I must have just really freaked her out," the Lawrence resident says. "I mean, how many girls when they were 11 had Al Pacino on their wall? What does that say about me? I'm not sure."
That said, once she officially became a teenager, Zylstra settled into a more mainstream crush: John Travolta, circa "Saturday Night Fever."
"I think it was that 15-year-old awakening of the hormones and the way he would dance," she says, admitting she would "dance" with him. "It was just a hormone thing, I guess he was my Justin Bieber."
Then vs. now
So how would the heartthrobs of today — the Justin Biebers, Robert Pattinsons and Joe Jonases — stack up if pared against the classic heartthrobs of the past 50 years. Obviously, today's moms are a bit biased.
"Oh my gosh, I don't see it. I don't see it at all," Zylstra says of what teen girls see in Bieber. "Like that David Archuleta from 'American Idol.' No, I really don't see, no."
Kuhr says that's the beauty of the teen idol — it's not only about who your "choices" are for crushdom as a teen, but also what the world is like during your childhood. And right now, teens are either Team Jacob or Team Edward rather than Team Paul or Team Ringo.
"I think every generation gets the teen idol that they deserve," Kuhr says. "Just like every generation has its own horror films that kind of reflect the anxieties of that generation, I think you see that with who the teen celebrities are."
Copyright 2018 The Lawrence Journal-World. All rights reserved. This material may not be published, broadcast, rewritten or redistributed. We strive to uphold our values for every story published.