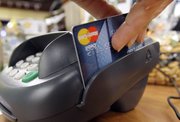 Boston — Congress appears poised to tighten restrictions on the fees that merchants pay when customers swipe debit cards at cash registers.
An amendment that cleared the Senate late Thursday is a loss for card payment networks like Visa and MasterCard — whose stocks tumbled on Friday — as well as major banks that issue cards.
But even if the amendment becomes law, it's unclear whether savings from reductions in debit card swipe fees would trickle down to consumers in the form of lower prices, or would largely be kept by merchants.
Swipe fees, formally called interchange fees, are charges that a merchant's bank pays the issuer of a customer's card for each electronic transaction.
The proposed change isn't likely to produce a windfall for shoppers, according to Scott Valentin, an FBR Capital Markets analyst who follows financial company stocks.
Valentin said in a research note Friday that he expects "little, if any, of any cost savings gained by merchants to be passed on to consumers."
Beyond the cash register, lower swipe fees also could affect increasingly popular debit card rewards programs, where customers rack up points for goodies like airline tickets or the latest iPod model. Valentin and another analyst said those programs could disappear, because banks rely on revenue from interchange fees to help cover the programs' reward costs.
The programs "would likely diminish or go away once debit interchange revenues are reduced," wrote Credit Suisse analyst Moshe Orenbuch.
However, a merchant who has sued card companies and banks over swipe fees says savings from fee cuts would ultimately reach consumers.
"It will transfer billions of dollars from banks to American families and small businesses," said Mitch Goldstone, CEO of Scanmyphotos.com, an Irvine, Calif. e-commerce and retail photo business.
If merchants pay lower fees on customers' debit payments, those that don't respond with price cuts will lose cost-conscious customers, said Goldstone.
When businesses accept major credit cards they sign agreements with the card companies to pay a percentage of each transaction, usually about 2 to 3 percent. Fees are set in negotiations among the various parties, although merchants say terms are largely dictated by card companies and banks.
The amendment that cleared the Senate involves interchange fees on debit cards, but not credit cards. Debit cards are being used more as customers have become less willing to borrow during the recession. Still, swipe fees from credit card transactions make up a bigger portion of bank profits than fees from debit transactions.
Copyright 2018 The Associated Press. All rights reserved. This material may not be published, broadcast, rewritten or redistributed. We strive to uphold our values for every story published.