Just a few hundred yards from where Lawrence High senior Byron Varberg christened the Lions' new tennis courts with a tiebreak victory in Tuesday's No. 1 singles match, the place LHS used to call home sits unrecognizable, covered by a parking lot.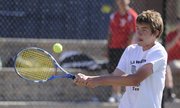 That's not all bad, though, according to Varberg. For one, the Lions' new home is every bit as beautiful as either on-campus stadium that the LHS and Free State High football teams now protect. And, secondly, at least the old courts are covered with fresh asphalt.
"It's really nice having courts without cracks," Varberg said shortly after his victory Tuesday. "You get a lot more true bounces over here."
Varberg was one of three Lions to pick up singles victories during Tuesday's dual with Mill Valley, which LHS lost, 5-4.
No. 3 singles player Connor Schmidt (8-6) and No. 6 singles player Pace Leggins (8-4) also made the grand opening of the Lions' new courts memorable for the home team. In addition, Schmidt and Varberg joined forces to pick up a win in the No. 1 doubles match, making both undefeated at home for the season.
The new courts, all eight dark green rectangles with crisp, white lines surrounded by the classic tennis-court red that largely resembles clay, were originally scheduled to be completed by spring break. However, unusually cold weather following the week off pushed back their completion, and the way the LHS tennis schedule was set up pushed things back even more. So, just a week before regionals, which will be played Saturday at Harmon Park in Kansas City, LHS coach Chris Marshall got on the horn and tried to find a match.
"We just threw this together last Friday," he said. "We got on here Monday for practice, and then we were able to play today. I think the kids were excited. It's nice to have eight courts as opposed to four, and it's nice to have more area to work with."
Until Tuesday, most of the Lions' home matches were played at Kansas University's facility.
When that venue wasn't available, the Lions had to get creative.
"The Lawrence Invitational was at Blue Valley," Varberg said. "That wasn't good."
But Tuesday, all of those bumps and road blocks along the way seemed worth it as the Lions and Jaguars battled for the first time at LHS' new home. Although they came up on the losing end of things, the LHS players seemed to enjoy their first meet at the new facility, which is tucked just behind the new LHS baseball stadium off of 21st and Louisiana.
"We haven't been able to practice quite like we've wanted to," Varberg said, "because we just haven't had the room. It's finally nice to have our own courts."
Joining Varberg, Schmidt and Leggins in competition on Tuesday were: No. 2 singles player, Ilan Rosen, who lost 8-5; No. 4 singles player, Matt Grom, who lost 8-6; and No. 5 singles player, Randy Walter, who lost 8-1. In addition, Rosen and Grom were paired up in No. 2 doubles and lost, 8-5, and Leggins and Walter competed in No. 3 doubles and also lost, 8-5.
Next for LHS is a home dual with Shawnee Mission West on Thursday, followed by the Class 6A regional tournament.
Copyright 2018 The Lawrence Journal-World. All rights reserved. This material may not be published, broadcast, rewritten or redistributed. We strive to uphold our values for every story published.