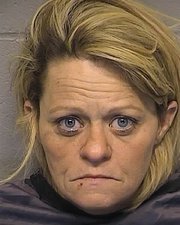 Johnson County prosecutors have charged a Missouri woman with aggravated assault on a law enforcement officer and eluding police during a high-speed chase last weekend that ended in Douglas County on Kansas Highway 10.
A Johnson County judge has set Micah L. Richardson's bond at $15,000. Richardson, 38, is from Windsor, Mo.
A Johnson County deputy stopped a vehicle about 10:20 p.m. Saturday near De Soto, at 103rd Street and Sunflower Road.
"A deputy exited his vehicle to make contact with the driver when he was assaulted with the driver nearly running over him," Master Deputy Tom Erickson said.
A chase ensued, and the suspect's vehicle eventually headed west on K-10.
The car, which traveled at speeds as high as 100 mph, eventually crashed into a ditch near the 1900 Road overpass.
Douglas County Sheriff and Eudora police officers had deployed "stop sticks" to deflate one of the tires. No one was injured in the incident, and officers took Richardson into custody.
According to court records, conditions of her bond prohibit her from drinking alcohol and from driving.
Copyright 2018 The Lawrence Journal-World. All rights reserved. This material may not be published, broadcast, rewritten or redistributed. We strive to uphold our values for every story published.