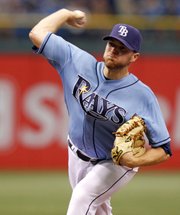 St. Petersburg, Fla. — Wade Davis keeps winning against the AL's top starters.
Davis beat Zack Greinke in a scintillating pitchers' duel, and Evan Longoria homered to lift the Tampa Bay Rays over the Kansas City Royals, 1-0, on Sunday.
"Davis was wonderful," Tampa Bay manager Joe Maddon said. "He had to pitch like that, or we wouldn't have beaten that guy. Their guy was fabulous. He could have pitched 15 innings. He only had 80-some pitches."
Davis (3-1), the Rays' No. 5 starter, allowed three hits, three walks and struck out five in seven innings during his latest matchup with an American League ace. The right-hander has faced the opposing team's opening day starter — including New York Yankees lefty CC Sabathia and Boston's Josh Beckett — in all five of his starts this year.
"It's huge when you can beat a guy like (Greinke) that only gives up one run," Davis said.
Greinke (0-3) allowed four hits in his 10th career complete game and first this season. The 2009 AL Cy Young Award winner has yielded just three runs over 22 innings in his last three starts.
Copyright 2018 The Associated Press. All rights reserved. This material may not be published, broadcast, rewritten or redistributed. We strive to uphold our values for every story published.