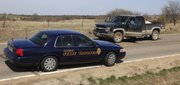 Intersection of North 850 and East 100 roads
Multiple local law enforcement agencies worked together to arrest a man who led police on a lengthy car chase from Topeka through rural areas west of Lawrence.
The chase ended shortly before 2 p.m. Tuesday at the intersection of North 850 and East 100 roads in Douglas County, near Twin Mound. The site is 1 mile from the Douglas-Shawnee county line, in an area southwest of Clinton Lake.
The chase began in Topeka when Topeka police tried to stop a black Chevrolet pickup truck for speeding, said Kansas Highway Patrol Technical Trooper Edna Buttler. The truck had a Douglas County license plate.
After Topeka police called off the chase, a Capitol Police officer spotted the truck at Fourth Street and Kansas Avenue in Topeka and resumed the chase.
Other officers joined in, and the pursuit reached speeds in excess of 100 mph while traveling along U.S. Highway 40 toward Lawrence.

The driver turned south before reaching Lawrence and he wound along rural roads west of Clinton Lake, passing back and forth between Douglas and Shawnee counties. A police airplane helped officers on the ground by tracking the truck from above.
"The chase did go on some dirt roads and it made it very dangerous," Buttler said. "So we eliminated some of those dangers by the use of aircraft, so it was very successful."
She said the highway patrol has a policy when deciding whether to continue a chase. Light traffic on roads, combined with the driver's multiple traffic violations and high rate of speed contributed to the decision to continue the pursuit.
She said the driver ran stoplights and stop signs, drove in and out of traffic lanes, avoided stop sticks and went off the road during the chase.
"All those things combined to him being a danger," Buttler said.
The chase ended calmly, Buttler said, when police arrested the man, who is being held in the Shawnee County Jail on various charges, including fleeing and eluding and felony possession of a firearm.
The suspect had an ignition interlock on his car and was driving on a revoked license, Buttler said.
Police said a dog crate, shotgun and hunting equipment fell from the truck during the chase.
Douglas County sheriff's deputies, Kansas Highway Patrol troopers, the Kansas Capitol Police and other agencies helped in the effort.
Copyright 2018 The Lawrence Journal-World. All rights reserved. This material may not be published, broadcast, rewritten or redistributed. We strive to uphold our values for every story published.