A nationally known impressionistic landscape artist and Kansas University professor emeritus of art has died.
Robert Sudlow, 90, died Thursday afternoon at his rural Lawrence home.
He had received several awards for his artwork, and had pieces in museums across the country. Sudlow had traveled to Eutin, Germany, Lawrence's sister city, in 2001 and displayed 24 of his Kansas landscape paintings there as part of a cultural exchange between the two cities.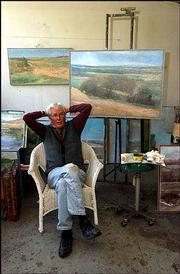 His paintings captured many scenes from Kansas, from the Flint Hills to the ponds and wooded areas near his home.
"Everybody's imprinted, wherever they live," Sudlow told the Journal-World in 2005. "If they're at all close to the environment, it affects them. Being here (in Kansas) and being part of it all my life, it's a natural extension of my psyche."
Sudlow taught painting at KU from 1947 until he retired 40 years later.
Tom Russell, a longtime artist friend who lives in Baldwin City, said Sudlow was a "very sincere and honest" painter. "He was always so honest in his approach to everything," said Russell, who had known and painted with Sudlow for more than 60 years. "He was just a very likeable guy. We talked about everything."
Services are planned for 3 p.m. Wednesday at Trinity Episcopal Church, 1101 Vt. An obituary will be published later in the Journal-World.
Copyright 2018 The Lawrence Journal-World. All rights reserved. This material may not be published, broadcast, rewritten or redistributed. We strive to uphold our values for every story published.