Photo Gallery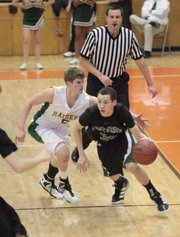 Free State boys vs. SM South
Photos from the Firebirds' game against Shawnee Mission South Saturday, March 6, 2010.
Shawnee — After the Free State High boys basketball team fell to Shawnee Mission South, 49-39 in Saturday's sub-state final, FSHS players briefly watched the Raiders hoist the trophy at midcourt, then exited to the locker room with a collective feeling of disappointment.
"A lot of us wanted to go further and just wanted this thing to keep going because we're going to miss it so much," senior guard Nick Hassig said. "At the same time, now that it's over, there's time to reflect and think about the legacy we left."
It's a pretty darn impressive legacy.
Seven seniors — Hassig, Josh May, Bo Schneider, Ryan Scott, Aundre Allen, Sebastian Bonner and Matt Ruder — began the season knowing all too well that the Firebirds hadn't won a game in their last 20 tries dating back to last season.
The 2010 seniors won 10 games and fell one victory shy of a state berth Saturday at Shawnee Mission Northwest. From 1-20 to 10-12. Not bad.
"The legacy of these guys will be that they returned a program back to some amount of respectability," Free State coach Chuck Law said. "It was a process to rebuild the confidence and the psyches of those 12 guys that were on the court tonight. Through the hard work and diligence of those seven seniors, I would like to think we have a foundation for next year that we can really build off."
Saturday's game began as a defensive battle — SM South only led, 23-13, at the half — but quickly turned into an apparent Raiders rout. SM South led, 40-18, after three quarters.
Free State wasn't quite ready to board the bus, though.
The Firebirds went on a 21-9 tear in the fourth quarter, highlighted by a pair of Schneider three-pointers and five points by the seldom-used Bonner.
No. 1 seed SM South (17-5) yanked most of its starters protecting a 20-point lead and more than 3:00 remaining on the clock. Free State chopped that lead in half, enough to force a small scare into SMS coach Brett McFall, who re-inserted his starters with 58.9 seconds remaining to ensure the victory.
"Especially for the seniors, we wanted to go out on a good foot," May said. "We had to buckle down, and we battled back and got what we wanted. They stuck their starters back in, and we got a respectable ending. I thought they put their subs in a little too early, so I was a little motivated. I think we all were."
No. 5 seed Free State struggled to score before its fourth-quarter run and didn't end up having a double-digit scorer. Schneider led FSHS with nine points, and Hassig pitched in eight.
Will Spradling, a 6-foot-2 guard who will play basketball at Kansas State next season, led SM South with 20 points off 6-of-10 shooting. He converted nine of his 10 free throws. The Firebirds displayed several defensive formations — halfcourt and fullcourt — in an attempt to deny Spradling the ball, including a few double-teams.
"He just always has the ball in his hands, and he always keeps up his dribble," Hassig said of Spradling. "And that's just hard to guard, especially when he can shoot it like he can. He's a great player."
With Spradling handling the ball, SM South committed only 11 turnovers. Free State had 21.
"Right now, I'm pretty sure the whole team is disappointed," May said. "It was our goal to keep going. But overall, I think we accomplished a lot over the season. Once this loss gets off our chests, I think we'll look back on this season with a positive outlook."
Copyright 2018 The Lawrence Journal-World. All rights reserved. This material may not be published, broadcast, rewritten or redistributed. We strive to uphold our values for every story published.