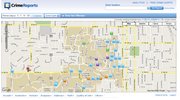 The Kansas University community can now easily find the safest place to park a car, the walking route where the fewest assaults occur, or the campus roads to avoid if you're concerned about getting a speeding ticket.
The KU Department of Public Safety has unveiled its newest tool — an Internet crime map — to inform the public about criminal activity on campus.
A link on the department's website takes users to www.crimereport.com, where with a few clicks you can create a map with icons giving the location — and details — of crimes reported at KU.
KU Public Safety Chief Ralph Oliver said the crime mapping was a logical step and a valuable public service for students and staff.
"We're always looking for ways for our statistics to get out to a more broader public," he said. "It's the wave of the future. ... Mapping is becoming a standard for communications."
Crime maps can be found on several police department websites, such as Topeka, Lenexa and Overland Park.
The Lawrence police department does not provide the community the service. Sgt. Bill Cory from the Lawrence police said crime mapping is something the agency has looked at before, but cost for such a service is a concern.
"We're always looking at new things," he said. "Sometimes it just boils down to how much it costs."
Oliver said the program they use costs "several thousand dollars per year," but with newer technologies, agencies such as the Topeka Police have found a way to map crime for free.
Crime analyst Jim Anderson at the Topeka Police said they've been using a free mapping program for three months from www.raidsonline.com, and have received positive community feedback.
"They like it," Anderson said, adding that the free program is also user-friendly for the department.
"It takes me five additional minutes (every day)," he said.
Timothy Hart, a criminal justice professor at the University of Nevada-Las Vegas, said that while there aren't any statistics for how many agencies across the country do online crime mapping, the use of such maps is increasing nationwide.
Hart said that making that information easily available to the public fits in with a "community-oriented" police philosophy and helps keep the citizenry informed about their neighborhood.
"It's just another piece to the puzzle," he said.
While the technology has made it easier for police to post crime maps online, the idea of mapping crimes is centuries old, Hart said.
"It's been going on since cops have been putting pins in a map," he said.
Copyright 2018 The Lawrence Journal-World. All rights reserved. This material may not be published, broadcast, rewritten or redistributed. We strive to uphold our values for every story published.