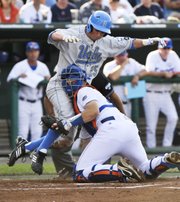 Omaha, Neb. — The first College World Series game in TCU history didn't exactly get off to a pretty start.
But by the last out Saturday before a crowd of 23,649 at Rosenblatt Stadium, it had turned into a beauty.
TCU opened the 2010 CWS with an 8-1 thumping of Florida State, as Matt Purke turned in another dominating performance under the biggest glare in Horned Frogs baseball history.
The freshman left-hander held Florida State to four singles in seven innings while collecting seven strikeouts to improve to 15-0 and tie Lance Broadway's school record for most victories in a season.
TCU (52-12) meets UCLA at 7 p.m. Monday.
UCLA 11, Florida 3
Trevor Bauer pitched seven strong innings and set the UCLA season-strikeouts record, and the Bruins cranked up their offense and capitalized on Florida's struggles to beat the Gators.
The Bruins (49-14) won for the first time at the CWS and will play TCU in a Bracket 1 winners' game Monday night.
Florida (47-16), the No. 3 national seed, meets Florida State in a Monday elimination game.
The sixth-seeded Bruins scored in eight innings and finished with 18 hits. Niko Gallego went 4-for-5, and Beau Amaral was 3-for-4.
Bauer (11-3) set the UCLA strikeout record in his last inning when he got Jonathan Pigot looking. Bauer struck out Preston Tucker to end the inning, giving him 11 for the game and 152 for the season.
Copyright 2018 The Associated Press. All rights reserved. This material may not be published, broadcast, rewritten or redistributed. We strive to uphold our values for every story published.