Durban, South Africa — The World Cup needed a jolt. Switzerland provided it.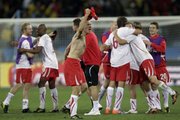 Gelson Fernandes scored on a rare Swiss attack, giving his team a stunning 1-0 upset Wednesday over European champion and tournament favorite Spain.
The loss ended Spain's run of 12 straight wins and handed the Spanish just their second loss in 50 games — the other was to the United States at the Confederations Cup in South Africa last year.
It also provided a thrill at a tournament that has seen few surprises and just 25 goals after the first game for all 32 teams.
"To be fair, I'm not used to scoring goals, so I was a bit surprised," Fernandes said. "It was a bit of luck."
And tenacity. Eren Derdiyok created Switzerland's big chance in the 52nd minute by surging through the center of Spain's defense and rounding Iker Casillas. Gerard Pique's desperate tackle stopped Derdiyok, but Fernandes pounced on the loose ball and forced it into the net.
World Cup
Chile edges Honduras, 1-0
Nelspruit, South Africa — Jean Beausejour scored the only goal, and Chile beat Honduras, 1-0, for its first World Cup victory in exactly 48 years. In a free-flowing match Wednesday, Chile won the opening game of Group H after Beausejour tapped in a cross from Mauricio Isla in the 34th minute.
Uruguay blanks South Africa
Pretoria, South Africa — South African fans blew their vuvuzelas long and loud, hoping to bring their team luck in the World Cup.
Uruguay's Diego Forlan had other ideas and brought the party to a crashing halt, scoring two goals in a 3-0 victory that pushed the hosts closer to exiting the first World Cup in Africa. That would be a first for a host country in the World Cup. While Forlan improved Uruguay's chances of making the second round, Bafana Bafana almost certainly must beat France in its next game to stay alive.
MLB
Royals place Hochevar on DL
Kansas City, Mo. — The Royals have put pitcher Luke Hochevar on the 15-day disabled list due to a strained right elbow.
Hochevar, the overall No. 1 choice in the 2006 draft, last pitched on June 11 in Cincinnati, allowing four runs in four innings.
NFL
Redskins fed up with Haynesworth
Ashburn, Va. — Albert Haynesworth didn't show. Teammates called him selfish. Now the Washington Redskins want their money back.
The Redskins are going to see if they can recoup all or part of a $21 million bonus from the disgruntled two-time All Pro defensive tackle, an official within the league with knowledge of the deliberations told the Associated Press on Wednesday. The team decided to take the action after Haynesworth failed to report for a mandatory two-day minicamp.
Haynesworth doesn't like the new defense the Redskins will switch to next season.
Giants' Hixon out for season
East Rutherford, N.J. — The New York Giants' kick-return game took a huge hit Wednesday when wide receiver and returner Domenik Hixon was diagnosed with a season-ending knee injury, one day after getting hurt during the team's first practice.
Favre surgery successful
Charlotte, N.C. — Brett Favre's doctor indicated Wednesday that his recent ankle surgery went well and the quarterback has a few more weeks of rehabilitation before he'll decide if he'll return for a 20th NFL season.
Bush pledges to help USC
Metairie, La. — Though Reggie Bush admitted no wrongdoing, he did express regret Wednesday over his involvement in an NCAA probe that resulted in major sanctions for Southern California's football program.
Speaking publicly about the NCAA report for the first time since its release last week, Bush would not address the specific allegations of wrongdoing. Rather, he pledged to support USC however he could in an appeal of the sanctions.
NFL, union discuss longer season
New York — NFL and union officials discussed adding two games to the regular season when they met Wednesday for their first negotiating session since February.
Teams would still play a total of 20 exhibition plus regular-season games under the proposal. The league would go from four in the preseason and 16 in the regular season to two and 18.
Copyright 2018 The Associated Press. All rights reserved. This material may not be published, broadcast, rewritten or redistributed. We strive to uphold our values for every story published.