Johannesburg — Not only will South Africa try to keep up with all previous home teams and advance out of the first round, but it will attempt to raise the profile of soccer in this country.
Mexico will want to spoil the party when the teams meet at 9 a.m. today in the World Cup opener at Soccer City.
In a nation where most international team sports success has been in rugby union and cricket, South Africa coach Carlos Alberto Parreira is out to lift the image of the sport played by the vast majority of the population.
South Africa is on a 12-game unbeaten run in friendlies under the 1994 World Cup-winning coach for Brazil. He said Thursday his goal is to bring integrity to a team that lost eight out of nine games before he returned to the job a year ago.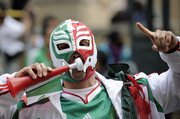 "We want to make this country proud, and we are going to give hell to any team we play," Parreira said. "In this country, football has been sleeping for many years. Then suddenly there was a ray of hope with the good performance of the team, the good preparation, the World Cup coming here for the first time."
Soccer
Australia won't be 2018 host
Johannesburg — Australia pulled out of the race to host the 2018 World Cup on Thursday and will instead focus on the 2022 tournament.
The announcement by FIFA and the Football Federation Australia leaves the United States running against four European bids: Belgium-Netherlands, England, Russia and Spain-Portugal — for the 2018 tournament. The U.S. also is bidding for 2022.
Wizards end winless streak at 8
Kansas City, Kan. — Kei Kamara and Graham Zusi both exploited Philadelphia defense with first-half goals, and the Kansas City Wizards broke an eight-match winless streak with a 2-0 victory over the Union on Thursday night.
Kansas City (3-5-3) won for the first time since beating Colorado 1-0 at home on April 10.
Basketball
Izzo talks to Cavs about job
Cleveland — Tom Izzo has flirted with the NBA before. He finally may be ready to commit.
Michigan State's highly respected coach visited the Cleveland Cavaliers on Thursday to get a firsthand inspection of a franchise undergoing a major makeover as it prepares to try to re-sign LeBron James, the free-agent-of-a-generation.
After flying to Cleveland in one of Cavs owner Dan Gilbert's jets, Izzo spent several hours visiting with members of the front office and coaching staff. He toured the team's facilities.
Avery Johnson to coach Nets
East Rutherford, N.J. — The New Jersey Nets announced on Thursday that they had reached an agreement in principle with former Dallas Mavericks coach Avery Johnson, with the notice coming less than 24 hours after Johnson text messaged the Associated Press that he was going to become the team's coach.
Leonsis takes control of Wizards
Washington — Ted Leonsis has completed his purchase of the Washington Wizards. The former AOL executive and his partners paid about $310 million to buy the NBA team, the Verizon Center and other assets from the estate of the late Abe Pollin. They had previously owned 44 percent of the team and the arena — as well as 100 percent of the Washington Capitals and Washington Mystics.
Leonsis' group is now called Monumental Sports & Entertainment. Its assets total about $825 million.
Football
Steelers QB: 'I was dumb'
Pittsburgh — A contrite Ben Roethlisberger said he got caught up in being a caricature called Big Ben, not the grounded player and person he once was, leading to his off-field problems and affecting his play as the Steelers quarterback.
"I've wanted to apologize to them (fans) for so many things. For being immature, for being dumb, for being young, for not knowing any better," he told WTAE in Pittsburgh. "For getting caught up in everything that was thrown my way. ... In my heart, I know I haven't been the best person, the best quarterback for the Steelers, I'm not talking just on the field, I'm talking off the field."
In his first detailed interviews since a Georgia college student accused him of sexually assaulting her in a nightclub bathroom on March 5, Roethlisberger told two Pittsburgh stations he doesn't have an alcohol problem. The NFL has suspended Roethlisberger for six games.
Golf
Westwood opens with 63
Memphis, Tenn. — Lee Westwood took advantage of no wind and a rain-softened course to shoot a 7-under 63 Thursday that equaled his best on the PGA Tour and gave him a one-stroke lead in the suspended first round. The world's No. 3-ranked player tied the course record for the back nine with a 29 with four of his five birdies and an eagle. He parred out his final eight holes.
Tennis
Sharapova wins twice, advances
Birmingham, England — Maria Sharapova won both of her matches Thursday to reach the quarterfinals at the rain-delayed Aegon Classic.
Sharapova needed three days to complete her first win on grass this year, a 6-0, 6-3 defeat of U.S. Fed Cup player Bethanie Mattek-Sands. She then returned to the court for a 6-3, 6-1 win against Alla Kudryavtseva, the fellow Russian who upset her at Wimbledon two years ago.
Roddick knocked out at Queen's
London — Andy Roddick made his earliest exit in nine years from the Queen's Club grass-court championships when he was ousted in the third round by 14th-seeded Dudi Sela of Israel on Thursday.
Roddick, a four-time champion at Queen's, lost, 6-4, 7-6 (8).
Three of the top five seeds failed to survive on Thursday, with No. 2 Novak Djokovic and No. 5 Marin Cilic joining No. 4 Roddick as third-round losers.
Copyright 2018 The Associated Press. All rights reserved. This material may not be published, broadcast, rewritten or redistributed. We strive to uphold our values for every story published.