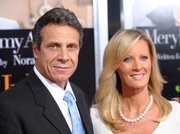 New York — He battles Wall Street fat cats, wants to drain New York's political swamp and is the favorite to be the state's next governor. She makes chili dogs on the Food Network, dispenses recipes for "semi-homemade" meals and has clutter-free closet tips.
New York Attorney General Andrew Cuomo and TV lifestyle celebrity Sandra Lee have been a couple for five years, highly visible in their respective fields but largely under the radar as a couple.
With Cuomo now running for the job once held by his father, they remain discreet about their live-in relationship. But the intriguing possibility remains: If Cuomo wins in November, New York's incoming first family could be uniquely nontraditional: two experts in statecraft and kitchencraft, living together without benefit of marriage.
Cuomo and Lee might seem like a peculiar power couple.
Lee, 43, is the host of two Food Network shows: "Semi-Homemade Cooking with Sandra Lee" and "Sandra's Money Saving Meals." A product of the West Coast and the Midwest, she grills banana S'mores and chops parsley on camera with animated charm. Her trademark phrase, "semi-homemade," describes her philosophy of adding fresh ingredients to packaged food (Don't have time to whip cream? Take a tub of Cool Whip and add vanilla extract).
Cuomo is a 52-year-old from Queens and the elder son of Mario Cuomo. Like his father, he is lawyerly and playfully combative (Don't want to answer a reporter's question? Start a Socratic dialogue). He works on old muscle cars for fun, and is more at home with a wrench than a whisk. Like his girlfriend, he is divorced. He was married to a member of another distinguished Democratic family, Kerry Kennedy, a daughter of Robert F. Kennedy.
"We have a wonderful, supportive relationship and we both are always there to help the other," Lee said in a statement to The Associated Press. "I leave the law enforcement and the politics to him, and he stays away from any recipe development (though he is impressive on the grill)."
They met at a party in 2005 at a mutual friend's house in the Hamptons and now live in suburban Westchester County, where they spend time with Cuomo's three teenage daughters.
"In a sort of sea of celebrity," said Food Network President Brooke Johnson, the couple's relationship "seems like a little island of realness and calmness."
Though Cuomo and Lee court publicity as individuals, they are leery of drawing back the curtains on their relationship. Neither would agree to an interview with the AP.
Aides to Lee also said it is too early to say if the couple will move into the Executive Mansion in Albany should he win. (Not all New York governors have lived full time in the mansion.)
Analysts say there could be political as well as personal reasons for Cuomo to tread gingerly on the subject of his long-term relationship as he runs for higher office, even though it's not exactly uncharted political territory.
Some New York voters said they weren't even aware of the relationship between the politician and the cook. And they said it didn't make any difference to them.
"It really doesn't matter to me," Kyle Lavorgna said in Albany, "as long as it's not another reality show starting."
Copyright 2018 The Associated Press. All rights reserved. This material may not be published, broadcast, rewritten or redistributed. We strive to uphold our values for every story published.