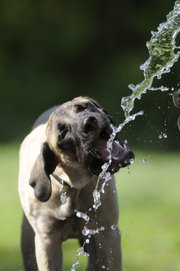 A ball flies through the air. Fido runs through the grass after it.
Fido grabs the ball, whips around and falls. He's torn his CCL — the dog equivalent of an ACL tear in a human.
"We run into the same problems with dogs being weekend warriors as we do," says Robin Michael, a veterinarian with Clinton Parkway Animal Hospital, 4340 Clinton Parkway.
As the weather gets warmer and dogs and cats spend more time outdoors, it's important to know the warning signs and treatment of common injuries and ailments of your pets.
We asked Michael and Susan Nelson, clinical assistant professor at the Veterinary Medicine Hospital at Kansas State University, for their first-aid tips for pets. They say it's especially important to keep an eye on your pets this time of year to keep them healthy.
Exercise and conditioning
If you've been a little lax on your workout routine over the winter and early spring, well, so has your dog.
"The big thing we see in the spring is dogs going out with their owner to run for the first time and getting overheated," Michael says.
It takes your dog the same amount of ramping up to be in top condition to run those five miles you have on your workout goals.
Keep an eye on your dog, Michael says. If it is lagging behind or panting excessively, find some water and shade for it to cool down. Short-nosed dogs, such as boxers and bulldogs, are especially susceptible to overheating.
"A lot of dogs don't know when to stop," Nelson says. "You have to be proactive for them."
Pad wear
Just like overall conditioning weakens over the winter, so do the calluses on the pads of dogs' paws.
Nelson suggests running on grass for a while, if possible, and then transitioning to cement. She says gravel is especially hard on dogs' paws.
And especially be careful during hot weather this summer.
"Think about how your feet feel on a hot summer day at the pool," she says.
Wounds
More time outside means more chance for cuts and other wounds for both cats and dogs.
Nelson says clipping the hair around a minor wound, then using a mild soap (such as Ivory or a baby shampoo) on the wound is a good first step.
Michael suggests trying to cover the wound with a bandage, if possible.
"The biggest problem with a cut or scrape is they want to lick it to death," she says. "That makes it worse. People misunderstand the licking as it's cleaning it. But it's not healing that way. It takes longer and has a chance to get infected."
Though most veterinarians would prefer to treat wounds without sutures, Michael says bad lacerations should be at least examined by a vet.
Bites
"We tend to see more cat fights this time of the year," Nelson says. "It's nice out. They're carousing a little more."
She says bites are best viewed by a veterinarian, just to be on the safe side.
"Bite wounds make us worried a little more," she says. "They can do more muscle damage."
And, of course, a bite wound could mean the potential for rabies, which the vet can test for and treat. And Nelson suggests taking your pet in to a veterinarian after a snake bite no matter what.
Doggie paddling
If you want to take your dog to the local pond, river or lake to swim, Nelson suggests having it vaccinated for bacterial infections, especially leptospirosis.
Swimming dogs may develop diarrhea, which may be a natural occurrence. But bacterial infections are more severe and long-term, and they can be fatal.
Nelson also warns that swims in the local reservoir can lead to fishing hooks caught in your dog's lip or skin.
G.I. Fido
A new season of plants means a buffet of new things to eat for your pets.
Though a small amount of grass can help a dog vomit and relieve gastrointestinal illness, in general, you should help your pets avoid eating plants.
Some mushrooms can be poisonous to pets, Michael says, so avoiding all of them is best. Lilies are generally poisonous to cats.
Also, there's a new enemy on the pet-GI front: cocoa mulch, which is gaining popularity. For the same reason chocolate is poisonous to dogs, the mulch is bad for them, too.
"It smells great," Michael says. "They'll go and eat until they're full."
Copyright 2018 The Lawrence Journal-World. All rights reserved. This material may not be published, broadcast, rewritten or redistributed. We strive to uphold our values for every story published.