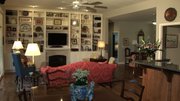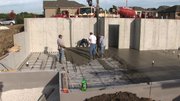 If home energy efficiency seems like an expensive, difficult-to-understand concept full of undecipherable, mumbo-jumbo terminology and unattainable benefits, Chris and Carol Armstrong have some advice.
"It was easier and less expensive than we thought," say the couple, who just completed the building of their new Energy Star-rated rancher with finished basement in west Lawrence six months ago.
The Armstrongs, empty-nesters looking to downsize after selling their family-sized house, began by doing some online research, then teamed with builder Neal Ezell to create a home with long-term energy cost savings.
Features include spray-foam insulation, a geothermal system and heat-recovery ventilation. The superior insulation and air-quality control also offer health and comfort benefits.
To achieve an Energy Star rating, a home must meet strict Environmental Protection Agency guidelines verifying that it is 20-30 percent more efficient than standard homes. According Ezell, the home's certifiable HERS (Home Energy Rating Score) score of 53 means it's 47 percent more efficient than standard homes.
Not "green-savvy" before, the Armstrongs quickly became energy-efficient converts and now relish a role as mythbusters for anyone in doubt of the inherent homeowner benefits. For this couple, the percentages equate dollars and sense.
"Percentage-wise, the cost was trivial. With the available tax credits and the estimated $1,300 we'll save annually in energy costs, much of our initial expense will be paid for in one year. It's an added benefit that we're doing something that helps the planet, that potentially benefits our kids, their kids and future generations," says Chris Armstrong.
"Home and Away" premieres at 6:30 p.m. Mondays on Sunflower Broadband channel 6 and replays throughout the week.
Copyright 2018 The Lawrence Journal-World. All rights reserved. This material may not be published, broadcast, rewritten or redistributed. We strive to uphold our values for every story published.