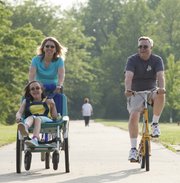 Becky Huffman has a mission.
The 25-year-old Lawrence woman is preparing to embark on a trip to Lima, Peru, to help at a school that serves about 700 people with disabilities.
"When we talk about it, she gets very excited," Becky's mom, Carol Huffman, said. "Becky, are you going to Peru?"
From her wheelchair, Becky squeals with excitement but doesn't answer. The 2005 Lawrence High School graduate, who has cerebral palsy, cannot speak. She uses a wheelchair and requires 24-hour care.
But she's not letting that stop her from helping others. Becky and her parents will be participating in a mission trip through the Oakland United Methodist Church in Topeka. The family will be serving at the Centro Ann Sullivan del Peru, where Becky's dad, Dale, will help repair some of the students' wheelchairs. The Huffmans, who've devoted their lives to giving Becky her independence, hope to also use the trip as a learning experience.
"We want to share," Carol Huffman said. "It's a different culture. I'm excited about experiencing what they do, but we're also going to share with them what we do, what Becky's life is like here and some of the things we've done in the United States to get people with — I like to say different abilities — out into the community and involved."
The Huffmans have been struggling with ways to keep Becky involved in the community since she left the Lawrence school system five years ago. She volunteers at Brandon Woods at Alvamar, visiting the elderly. She collects and recycles cans from Babcock Place and also earns money by shredding documents for a couple of local businesses.
"Back when she was born, even in 1984, they said, 'Put her in an institution,'" Carol Huffman said. "They said, 'She'll never do anything.'"
She's proved everyone wrong.
"You may go (on a mission trip) to give back, but you get more than you give," Carol Huffman said. "It's a true experience for both sides. It's hard for me to grasp what she's going to get from it."
Copyright 2018 The Lawrence Journal-World. All rights reserved. This material may not be published, broadcast, rewritten or redistributed. We strive to uphold our values for every story published.