Photo Gallery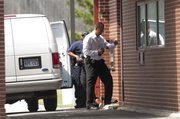 Armed robbery at KU Credit Union
Police investigate an armed robbery at the KU Credit Union in the 3400 block of W. Sixth Street on Monday, July 12, 2010.
Residents in a west Lawrence neighborhood described their day as eventful, after witnessing a bank robbery suspect run through the street and police conduct a manhunt in their yards.
Shortly before 6 p.m. Monday, Lawrence police officers apprehended a suspect in the armed robbery of KU Credit Union that took place a few hours earlier, Lawrence police said.
Dozens of officers filled the neighborhood near Sixth Street and Kasold Drive after a police officer said he spotted the suspect. A brief foot chase ensued before the suspect was cornered near Eighth and Kasold.
The arrest was made just a few blocks away from the crime scene. Officers were called to the credit union, in the 3400 block of West Sixth Street, just after 3 p.m. Monday in response to a report of an armed robbery.
A teller told police that the suspect approached the counter, showed a handgun and demanded money before grabbing an undisclosed amount of cash and leaving out the front door of the building.
That's when people in the area reported seeing the suspect run across Kasold toward the neighborhood where he was later found. Dave Snyder was outside of a nearby shop and said he saw the man run near a large Dumpster.
"He looked like he was holding something, a bag or whatever, and he came back out and you couldn't see it any longer," Snyder said.
Snyder was one of many residents interviewed by police. Police released several photo images taken from the bank's surveillance video. They show the suspect making no attempt to conceal his identity while setting a gun on the counter.
The man's name has not been released. After the arrest, officers continued to search yards near Sixth and Kasold. It was unclear whether they were looking for the gun, money or other evidence.
Copyright 2018 The Lawrence Journal-World. All rights reserved. This material may not be published, broadcast, rewritten or redistributed. We strive to uphold our values for every story published.