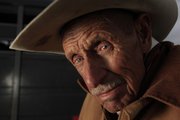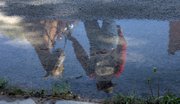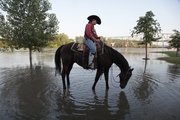 This year's 150th anniversary ride of the Pony Express sounded like a pretty easy thing to shoot.
The first two days were, and then things started looking pretty much the same. A rider would head east from a stop point the day before with the mochila (the mail), and they tried to stay on the trail all the way to St. Joseph, Mo.
In the Sierras, my group had arrived a day early and stayed with a rider and past president of the Pony Express, and he was able to show me places the riders would pass — one a field of bluebells, which made a great morning shot. A lot of the same thing went on from handoff to handoff, and it was making my eye look for something to create a different pic of similar images.
There were obvious shots past old ruins, Fort Churchill, Grubb's Well. Nevada was probably the fist place in the middle of the desert where there wasn't much except a old shack. As I entered I got a surprise: two dead steers, dried up as the hides stuck to the bones, I slipped around them to gaze out a window for a quick framing shot. Finding ruins of Pony Express stations was probably the coolest pics because not many people have had access to these due to where they were. Some were on private land and some on land owned by BLM. They ranged from Sand Springs, where the desert is white, to Cold Springs as a small stream of water ran next to the stone walls.
Arriving in Ibapah, Utah, a green valley of cool running streams, I noticed an old rancher bent over on his horse. A small light to the side helped make some more detail on his old, wrinkled face for this pic of a second-generation rancher.
On to Callao, Utah, as we drove for some two hours down into a deep valley southwest of Salt Lake that had its own school. Some 300 people were waiting for the Pony Express rider. As we walked into a school that looked like "Little House on the Prairie," I felt like we'd stepped back in time.
Snowing on the way out we made it to Salt Lake City as a family took control and rode thought the streets in the middle of the day. The horses along roadside would run up to their fences, which meant pics were always available, but I had to be ready and composing a lot.
In Oak, Neb., I first saw two brothers along a fence in the city park under a sign that said "no horses in park." Rains were setting in and puddles of water filled the streets, so I looked down and captured a reflection of a rider and his horse.
Arriving in Atchison, I viewed a young women rider on her horse crossing into the river. It made perfect end pic for a memorable journey.
Copyright 2014 The Lawrence Journal-World. All rights reserved. This material may not be published, broadcast, rewritten or redistributed. We strive to uphold our values for every story published.