Seattle — Yuniesky Betancourt's broke a 10th-inning tie with a two-out RBI single, and the Kansas City Royals went on to a 6-4 victory over the Seattle Mariners on Monday night.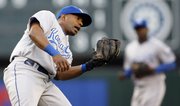 Mitch Maier tripled off Chad Cordero (0-1) with two outs in the 10th, just the fifth extra-base hit for the Royals this month. Betancourt, traded to the Royals by Seattle last season, then singled through the left side.
Cordero's wild pitch allowed Betancourt to advance to second and he scored on Scott Podsednik's bloop single to shallow left.
It was Cordero's first loss since Aug. 24, 2007, to Colorado, when he pitched for the Washington Nationals.
Kyle Farnsworth (2-0) worked one inning for the win. Joakim Soria earned his league-leading 23rd save.
Copyright 2018 The Associated Press. All rights reserved. This material may not be published, broadcast, rewritten or redistributed. We strive to uphold our values for every story published.