Spa, Belgium — On a day of chaos and crashes, riders tumbled like dominoes in the rain and littered the road in a scene Lance Armstrong called "surreal."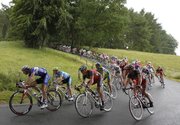 The seven-time champion did not escape the mayhem at the Tour de France on Monday. He was left searching for his bike, nursing scrapes and bruises to his hip and elbow and joking about the decision to come out of retirement.
He was in good company, joining dozens of riders who hit the asphalt on a slippery downhill run some likened to ice skating.
Sylvain Chavanel of France was among few to avoid trouble. He sped to victory after breaking away early in the 125-mile trip from Brussels to Spa and taking the yellow jersey from Switzerland's Fabian Cancellara. With the pack banged-up, he finished nearly four minutes ahead.
With so many riders down in crashes, organizers said they briefly considered canceling the stage altogether. But under race rules, the spills were too spread out to warrant a cancellation.
Armstrong returned to the RadioShack team bus with his team outfit torn and a bloody scrape on his thigh. His team said he also injured his elbow but otherwise was all right.
"You had people everywhere. It was surreal. When I got back on my bike ... I saw crash, after crash, after crash," Armstrong said, noting riders laid out on the ground. "It was like war."
Armstrong sits fifth in the overall standings, 3:19 back.
NBA
Miami offer to Wade: $127 million
Miami — Heat fans missed a chance to make their case to Dwyane Wade on Monday.
No big deal. Micky Arison did it for them.
As Wade moved closer to deciding his future, he returned to Miami and was seen entering the team's arena with team owner Arison, who wants to pay the six-time All-Star around $127 million for the next six seasons. The day started with a glitch — fans were told to show up at the wrong part of Miami's airport to greet Wade — but Heat officials remained optimistic their star player isn't going anywhere.
For his part, Wade was still contemplating his future.
"Not there yet," Wade's agent, Henry Thomas, said Monday.
College basketball
S. Florida extends coach Heath
Tampa, Fla. — South Florida basketball coach Stan Heath has agreed to a three-year contract extension after leading the Bulls to their most successful season since entering the Big East.
Heath signed a five-year contract worth up to $4.275 million in 2007. The extension announced Monday runs through 2015.
NFL
Ex-Raiders QB Russell arrested
Mobile, Ala. — Former Oakland Raiders quarterback JaMarcus Russell has been charged with possession of a controlled substance — codeine syrup — after being arrested Monday at his home in Alabama, authorities said.
The 24-year-old former LSU star and the No. 1 draft choice in 2007 was arrested as part of an undercover narcotics investigation, said Mobile County Sheriff's spokeswoman Lori Myles. She would not say what led to his arrest. She said he did not have a prescription for the codeine.
Russell, who graduated from high school in Mobile, was booked into the city jail and released soon afterward on $2,500 bond.
Golf
Tiger struggles, 7-over in Ireland
Adare, Ireland — Tiger Woods looked just as out of form in a celebrity pro-am as he did on the PGA Tour.
The world's No. 1 golfer arrived Monday in Ireland just hours after his 46th-place finish at the AT&T; National in Pennsylvania and shot a 7-over 79 in the first round of the J.P. McManus Invitational Pro-Am.
Hockey
Former NHL player Probert dies
Detroit — Retired hockey enforcer Bob Probert, as adept with his fists as with a stick in a 16-season career with the Detroit Red Wings and Chicago Blackhawks, died Monday after suffering chest pains while boating with his family. He was 45.
"Bob lost the fight of his life this afternoon," said Probert's father-in-law, Dan Parkinson, a police officer who performed CPR before Probert was rushed to Ontario's Windsor Regional Medical Center.
Tennis
American Dent loses in first round
Newport, R.I. — American Taylor Dent was upset in the first round of the Hall of Fame Tennis Championships on Monday, losing to Go Soeda when he was broken in the final game of the match. Soeda, Japan's top-ranked player, won, 6-4, 3-6, 6-4.
China's Peng advances
Budapest, Hungary — Fifth-seeded Peng Shuai of China beat Silvia Njiric of Croatia, 6-1, 6-3, on Monday in the first round of the Budapest Grand Prix.
Peng won the last five games of the first set and held off the wild card in the second.
Copyright 2018 The Associated Press. All rights reserved. This material may not be published, broadcast, rewritten or redistributed. We strive to uphold our values for every story published.