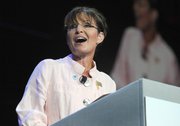 Rifle through a stack of tea party candidate resumes, and Joe Miller's will stand out.
The man who wants to turn a fellow Republican, Alaska Sen. Lisa Murkowski, out of office is a graduate of Yale Law School and West Point, a decorated combat veteran and former judge. Many tea partiers share his disdain for Washington, its political gridlock and mounting debt, but not his credentials.
The message he conveys, though, is straight from the tea party script: He fears the nation is veering toward socialism and insolvency. He says Murkowski is too liberal.
To Miller, Alaska's senior senator is complicit in the ballooning U.S. debt and spending and has a voting record that would make a Democrat proud.
His agenda envisions a federal government with reduced limits. He would cut off federal dollars for the United Nations, gradually privatize Medicare and Social Security and disband federal departments that aren't spelled out in the Constitution, including the Environmental Protection Agency and the Education Department.
"The problem," he says, "is incumbency."
The next upset?
In an election year marked by tea party activism, Miller is part of the next wave of Republican primary candidates counting on a public weary of Washington and the stale economy, and eager for fresh faces. In more than a dozen primaries in the months ahead — among them Oklahoma, Kansas, Tennessee, Colorado, Arizona, Washington state and Florida — tea party candidates are determined to upend the status quo and capture GOP nominations.
Could Miller be the next Rand Paul or Sharron Angle — tea party-backed candidates who stunned GOP powerbrokers in Kentucky and Nevada?
Murkowski, a moderate and the first woman elected to Congress from Alaska, "is pretty safe but you never know," says Judy Eledge, president of the Anchorage chapter of the Alaska Federation of Republican Women.
Eledge, who is not aligned with either candidate, says Murkowski's biggest challenge will be reassuring conservatives. On Friday, the senator announced her opposition to President Barack Obama's Supreme Court nominee, Elena Kagan.
As a state legislator, Murkowski voted to raise alcohol taxes and against a bill to restrict publicly funded abortions. As a member of the GOP Senate leadership, she has displayed a centrist streak. Independents who make up more than half Alaska's registered voters can vote in the Aug. 24 primary, which analysts say will benefit the incumbent.
Miller has gotten a boost from endorsements from Sarah Palin, the Tea Party Express and local tea party groups. But Murkowski has $2 million in the bank and has a familiar name in Alaska politics. Her father, Frank Murkowski, was a governor and senator. As governor, he appointed his daughter in 2002 to the Senate seat he had held.
Former Alaska lawmaker Andrew Halcro, a friend and supporter of Lisa Murkowski, says her moderate brand of politics fits well in a state where most voters don't belong to any party. But the prevailing sour mood in the U.S. poses a threat.
"Like a lot of states, you have an angry populace" in Alaska, Halcro says. "If I'm Lisa, I am worried because these guys have an appealing message — down with government, down with incumbents."
Tea party surprises
Surprises are the norm this year.
Three-term Republican Sen. Bob Bennett of Utah was ousted by tea partiers at the state GOP convention in May.
Tea party darling Angle engineered a come-from-behind victory in Nevada over an establishment-preferred candidate and will challenge Senate Majority Leader Harry Reid in November. Rand Paul pulled off a surprise win in Kentucky's Senate race over a party favorite.
Florida Gov. Charlie Crist was forced out of the GOP by tea party-backed Marco Rubio and is running as an independent. In South Carolina, Palin's support and tea party activists helped GOP state Rep. Nikki Haley emerge from a crowded field to capture the GOP nod for governor.
In Colorado, the GOP Senate nomination appeared destined for a former lieutenant governor, Jane Norton. But Republican prosecutor Ken Buck has emerged as a rising tea party star by blending grass-roots organizing, a message of ideological purity and a folksy appeal he shares with candidates such as Angle.
In Tennessee, a tea party Republican seeking a congressional seat in a crowded field has made headlines by opposing construction of a suburban Nashville mosque. Candidate Lou Ann Zelenik says the "Islamic training center" is part of a political movement "designed to fracture the moral and political foundation of Middle Tennessee."
"Until the American Muslim community finds it in their hearts to separate themselves from their evil, radical counterparts, to condemn those who want to destroy our civilization ... we are not obligated to open our society to any of them," Zelenik says. She hopes to replace Democratic Rep. Bart Gordon, who is retiring after 13 terms.
In Washington state, former professional football player Clint Didier is questioning the Republican credentials of party-recruited candidate Dino Rossi in the scramble to take on three-term Democratic Sen. Patty Murray.
The true test of the tea party candidates is whether they can attract moderate and independent voters to win in November.
Copyright 2018 The Associated Press. All rights reserved. This material may not be published, broadcast, rewritten or redistributed. We strive to uphold our values for every story published.