Anaheim, Calif. — Bruce Chen retired his first 18 batters in a riveting duel with Ervin Santana, and Jose Guillen snapped a scoreless tie with a two-run single in the eighth, leading the Kansas City Royals to a 4-2 victory over the Los Angeles Angels on Saturday night.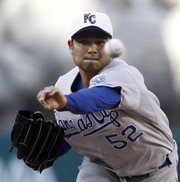 Chen (5-2), a journeyman left-hander, allowed a run and two hits in 71⁄3 innings, struck out three and was aided by a pair of sensational defensive plays by center fielder David DeJesus.
The 13-year veteran, pitching for his 10th major-league club less than three weeks before his 33rd birthday, was making his seventh start since being inserted into the rotation when Gil Meche went on the disabled list.
Switch-hitter Erick Aybar ended Chen's bid for the majors' fifth no-hitter of the season — and third perfect game — leading off the seventh, when he lined his 76th pitch to left field on a 1-2 count for a clean single.
Howie Kendrick bunted him to second, but Chen struck out Bobby Abreu and retired Mike Napoli on a popout after an intentional walk to Torii Hunter.
Chen's bid for his first shutout in 128 major league starts also ended on his 94th and final pitch: Jeff Mathis hit his second homer of the season to left-center with one out in the eighth. But the Royals tacked on two runs in the ninth, one on a fielder's choice by Jason Kendall, the other on a wild pitch by Francisco Rodriguez.
Kyle Farnsworth retired both batters he faced in the eighth and Joakim Soria got three outs for his 22nd save in 24 attempts, striking out Hideki Matsui with runners at second and third to end it after Napoli's bases-loaded sacrifice fly.
Chen's effort overshadowed an equally brilliant outing by Santana (8-6), who had allowed only two hits through the first seven innings — singles by leadoff hitter Scott Podsednik. But in the eighth, Santana gave up two-out singles to Kendall and DeJesus before hitting Billy Butler with a pitch for the second time to load the bases.
Butler glared at Santana several times, then ripped the batting glove off his right hand and threw it away on the way to first base. Mathis, the catcher, walked to the mound to settle down the obviously rattled Santana, who then gave up Guillen's hit to left-center.
Santana was charged with four runs and seven hits over 81⁄3 innings and struck out four and walked Butler twice.
Royals switch-hitting third baseman Alberto Callaspo was scratched because of a sore left wrist.
Copyright 2018 The Associated Press. All rights reserved. This material may not be published, broadcast, rewritten or redistributed. We strive to uphold our values for every story published.