Photo Gallery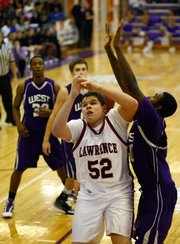 LHS basketball vs. Topeka West
Lawrence High advanced to the championship game of the Topeka tournament after knocking off Topeka west 49-40 on Friday, January 22, 2010.
Topeka — What began as a dreadful game for both teams ended in sweet fashion for the Lawrence High boys basketball team at the Topeka Invitational Tournament on Friday night.
After opening their semifinal contest against host school Topeka West with a two-point first quarter, the Lions turned things up in the second half and turned a one-point halftime deficit into a 49-40 victory and a berth in today's championship game.
"It's been a lot of fun around this team lately," said LHS coach Mike Lewis, whose team improved to 3-1 since returning from winter break.
It's unlikely anything has been more fun than Friday. Despite shooting 1-for-11 in the first quarter, the Lions trailed by just two — 4-2 — after one. The LHS shooting heated up in the second quarter (4-for-11 overall, 3-for-7 from three-point land), but the Lions still trailed by a point at half.
"In the first half, we just couldn't hit shots, and that really hurt us," sophomore Logan Henrichs said. "But we stayed confident because we really wanted to play in the championship game."
The Lions stumbled out of the gate again in the third quarter and watched with frustration as the Chargers built a 28-19 lead with two minutes remaining in the third quarter.
That's when senior Marcus Ray (17 points in Thursday's win) took a huge step toward cementing a spot on the all-tournament team.
Back-to-back drives into the teeth of West's 2-3 zone produced a pair of buckets for Ray. Two more drives of similar determination led to open three-pointers for teammates K.J. Pritchard and Drake DeBiasse. In a matter of 1:16, the Lions had sliced a nine-point lead to one.
They didn't stop there.
LHS (3-7) scored the first seven points of the fourth quarter and, before they were finished, had ripped off a 21-4 run over two quarters that produced a 40-32 lead with 2:31 to play.
"If Marcus is feeling it, we always want him to make a play," Lewis said. "He did that tonight, late in the game. It's nice to have a senior step up and do that."
Ray finished with 21 points. After missing his first four shots, he hit seven of his last eight and helped ice the game from the free throw line.
"We weren't attacking the zone at all in the first half," Ray said. "But we knew we could get through there. It makes our offense a lot easier, especially when we're all making our shots."
Asked if he felt unstoppable at times, Ray grinned and then told the truth.
"For a second, I did," he said.
Ray was hardly alone in leading the Lions into the title tilt — 7:30 tonight against Highland Park. Anthony Buffalomeat finished with 10 points and four rebounds, Pritchard added seven points and three steals and DeBiasse chipped in with three points, three rebounds, three steals and two assists. Senior Michael McCabe also added three points and delivered what was probably the pass of the night on a no-look dish to Ray to give LHS its first lead of the second half (32-30).
Defensively, it was an entirely different story, as the Lions went small midway through the second half — with 6-foot sophomore Henrichs holding down the middle spot in the 2-3 zone — and played with enough heart and tenacity to hold their own.
"Our guys stick together," Lewis said. "The teamwork's always there and they understand now that it has to be a team effort every night for us to be successful."
Never will that be more true than tonight, when the Lions will look to end Highland Park's three-year reign as tournament champion.
*Be sure to check out the latest version of Tait's Take for a look back at the individual performances from this game.
Copyright 2018 The Lawrence Journal-World. All rights reserved. This material may not be published, broadcast, rewritten or redistributed. We strive to uphold our values for every story published.