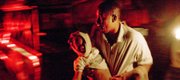 A 7.0 magnitude earthquake occurred 10 miles southwest of Port-au-Prince on Jan. 12, causing widespread devastation in Haiti's capital and throughout the country.
Photo Gallery
Earthquake strikes Haiti
Port-au-Prince, Haiti — The staggering scope of Haiti's nightmare came into sharper focus Monday as authorities estimated 200,000 dead and 1.5 million homeless in the quake-ravaged heart of this tragic land, where injured survivors still died in the streets, doctors pleaded for help and looters slashed at one another in the rubble.
The world pledged more money, food, medicine and police. Some 2,000 U.S. Marines steamed into nearby waters. And ex-President Bill Clinton, special U.N. envoy, flew in to offer support. Six days after the earthquake struck, search teams still pulled buried survivors from the ruins.
But hour by hour the unmet needs of hundreds of thousands grew.
Overwhelmed surgeons appealed for anesthetics, scalpels, saws for cutting off crushed limbs. Uncounted thousands of survivors sought to cram onto buses headed out of town. In downtown streets, others begged for basics.
"Have we been abandoned? Where is the food?" shouted one man, Jean Michel Jeantet.
The U.N. World Food Program (WFP) said it expected to boost operations from feeding 67,000 people on Sunday to 97,000 on Monday. But it needs 100 million prepared meals over the next 30 days, and it appealed for more government donations.
"I know that aid cannot come soon enough," U.N. Secretary-General Ban Ki-moon said in New York after returning from Haiti.
"Unplug the bottlenecks," he urged.
In one step to reassure frustrated aid groups, the U.S. military agreed to give aid deliveries priority over military flights at the now-U.S.-run airport here, the WFP announced in Rome. The Americans' handling of civilian flights had angered some humanitarian officials.
Looting and violence flared again Monday, as hundreds clambered over the broken walls of shops to grab anything they could — including toothpaste, now valuable for lining nostrils against the stench of Port-au-Prince's dead. Police fired into the air as young men fought each other over rum and beer with broken bottles and machetes.
Hard-pressed medical teams sometimes had to take time away from quake victims to deal with gunshot wounds, said Loris de Filippi of Doctors Without Borders. In the Montrissant neighborhood, Red Cross doctors working in shipping containers and saying they "cannot cope" lost 50 patients over two days, said international Red Cross spokesman Simon Schorno.
Amid the debris and the smoke of bodies being burned, dozens of international rescue teams dug on in search of buried survivors. And on Monday afternoon, some 140 hours after the quake, they pulled two Haitian women alive from a collapsed university building. At a destroyed downtown bank, another team believed it was just hours from saving a trapped employee.
The latest casualty report, from the European Commission citing Haitian government figures, doubled previous estimates of the dead from the magnitude-7.0 quake, to approximately 200,000, with some 70,000 bodies recovered and trucked off to mass graves.
If accurate, that would make Haiti's catastrophe about as deadly as the 2004 Indian Ocean tsunami, which killed an estimated 230,000 people in a dozen countries.
European Commission analysts estimate 250,000 were injured and 1.5 million were made homeless. Masses are living under plastic sheets in makeshift camps and in dust-covered automobiles, or had taken to the road seeking out relatives in the safer countryside.
A dirt-poor nation long at the bottom of the heap, Haiti will need years or decades of expanded aid to rebuild. After meeting with Haitian President Rene Preval and other international representatives in the neighboring Dominican Republic, Dominican President Leonel Fernandez said Haiti would need $10 billion over five years.
For the moment, however, front-line relief workers want simply to get food and water to the hungry and thirsty.
Copyright 2018 The Associated Press. All rights reserved. This material may not be published, broadcast, rewritten or redistributed. We strive to uphold our values for every story published.