Photo Gallery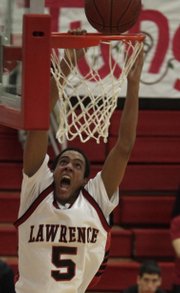 Lawrence High vs. Shawnee Mission North
Undefeated in 2010.
That's how the Lawrence High boys and girls basketball teams stood after posting back-to-back victories against Shawnee Mission North on Tuesday at LHS, with the boys winning, 67-50, and the girls cruising to a 47-36 victory.
"We entered the game looking at 2010 as a fresh start," LHS boys coach Mike Lewis said. "We really wanted to put the past behind us and focus in on the 15 guaranteed games that we have ahead of us."
One down, 14 to go. If they play like they did Tuesday, the Lions might enjoy a few more games before the season ends.
Behind a fast start from senior center Matt Montes de Oca, who made all four shots he attempted in the opening quarter, the Lions raced to a 16-3 lead. The Lions hit nine of 15 shots in the quarter and forced the Indians into four turnovers to build the kind of lead that laid the foundation for what was to come.
LHS eventually went up by as many as 17 points before taking a 34-22 lead into the locker room at halftime.
"That was a big confident boost for us," said senior guard Marcus Ray, who led all scorers with 15 points on 7-of-8 shooting. "Tonight really showed that we're starting to come together more as a team."
Through the first six games of the season — all losses — LHS had trouble finishing games in the fourth quarter. For a while, it looked as if those woes would return Tuesday. The Lions committed seven turnovers in the third quarter but also forced five and managed to stretch their lead to 15 heading into the final quarter.
That's when SM North made LHS sweat a little. After a bucket by Ray put the Lions up by 16 with 5:30 to play, the Indians ripped off a 7-0 run that cut the gap to 59-50 with nearly four minutes to play.
"I was a little concerned there," Lewis said. "But I hoped that the guys would remember what we told them at halftime. They just needed to find that killer instinct and put this team away."
Message received. LHS (1-6) closed the game on an 8-0 run and held the Indians scoreless for the final 3:43.
"It's nice to get that W," Lewis said. "There were a couple of pretty big hugs after the game."
Copyright 2018 The Lawrence Journal-World. All rights reserved. This material may not be published, broadcast, rewritten or redistributed. We strive to uphold our values for every story published.