Photo Gallery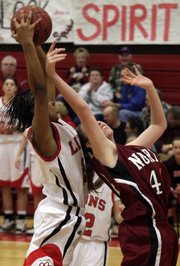 Lawrence High girls vs. Shawnee Mission North
It took them six games to get going, but the Lawrence High girls basketball team discovered something about themselves during Tuesday's 47-36 victory over Shawnee Mission North. When seniors Haley Parker, Cassie Potter and Jasmyn Turner all come to play, the Lions are still a pretty dangerous team.
"We're not very good individually," LHS coach Nick Wood said. "But when we decide to play together, we can be a really good ball team."
Behind eight points and five assists from Parker, 12 points (including the first eight of the third quarter) from Turner and a couple of key buckets from Potter down the stretch, the LHS girls improved to 2-5 with a hard-fought, 11-point victory against the Indians. SM North senior forward Brianna Kulas, who's heading to Kansas State next season, finished with a game-high 23 points.
The Lions led by one at halftime and opened up an eight-point lead by the start of the fourth quarter. Turner and Potter combined to do all of the LHS scoring in the third and Parker assisted on three of their five baskets.
"We were just tired of losing and we wanted to put a stop to it," Turner said. "It was so nice to have all of us play well at the same time. And tonight we actually made shots."
LHS's boys and girls will play host to Olathe South on Friday.
Copyright 2018 The Lawrence Journal-World. All rights reserved. This material may not be published, broadcast, rewritten or redistributed. We strive to uphold our values for every story published.