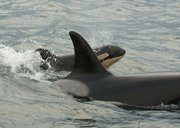 Seattle — A little over a year after researchers feared a drop in the Northwest's endangered killer whale population meant disaster, the number of orcas has bounced back with six new babies and no whales lost.
Though scientific evidence is skimpy, some whale experts say the good news might be the result of enough salmon for the majestic black-and-white mammals to eat. Others say so little is known about orcas that the baby boom could be due to any number of factors — or simply a statistical fluke.
Whatever the reason, they're overjoyed about the new arrivals.
"We're all very happy to see so many births," said Susan Berta of the Whidbey Island-based Orca Network.
"We're all hoping that they find lots of fish to keep them healthy and keep the mothers in good condition so they can feed the calves," she said.
The Center for Whale Research says that in 2008, eight orcas in the three pods, J, K and L, that make up the southern resident population in Washington and southwest British Columbia went missing and were presumed dead, including two females of reproductive age. With just one surviving birth that year, the total in the three pods as of December 2008 dropped to 82.
That alarmed researchers — "This is a disaster," Ken Balcomb, a senior scientist at the San Juan Island-based center, said in October of that year.
But in 2009, no deaths were reported and five new calves were spotted, giving a December total of 87. A sixth infant was born Jan. 3 while its family, J Pod, was near Seattle on a winter visit, making it 88.
Both Balcomb and Howard Garrett, director of the Orca Network, think food might have something to do with it.
The whales feed on salmon — particularly chinook salmon, the largest and arguably tastiest of the Pacific species. Chinooks are listed as threatened or endangered in several Northwest waterways, including Puget Sound and the Columbia River.
"Unfortunately, they're very picky," Garrett said, with chinooks sometimes making up 80 percent of the whales' diet. It sounds simplistic, Garrett said, but "the way that we can tag the population fluctuations is directly from the chinook runs."
Taken as a whole, the runs in the region have held steady over at least the past two years, he said.
Copyright 2018 The Associated Press. All rights reserved. This material may not be published, broadcast, rewritten or redistributed. We strive to uphold our values for every story published.