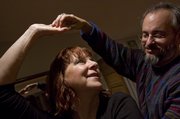 Hutchinson — No need to roll up the carpet and move the furniture when Brian and Jo Higgins feel the urge to scoot a boot.
They simply go to the basement of their Hutchinson home, slip in a CD and move together to a little West Coast swing.
As the couple dance in the newly remodeled basement, it's hard to imagine the room with cinderblock walls and a concrete floor.
But this classic 100-year-old four-square structure in the Houston Whiteside Historical District, while retaining many of its original features, has become personalized with the Higgins' style.
The couple, married nearly five years, has been combining their lives through books, antiques and heirloom china. And their love of dancing, which brought them together in the first place, now has a specific place in the home.
During the work week, Jo Higgins is a librarian at Hutchinson Middle School-7. She is also a part-time dance instructor at the Elmdale Recreation Center.
Brian Higgins, who works for Cessna, was living in Wichita in 2003 when he joined Jo's class at the suggestion of a mutual friend.
While there was no immediate chemistry between them, and she was in a different relationship at the time, his interest in learning to Foxtrot developed into a friendship, which blossomed into love.
From the first step he was a star pupil. What Jo noticed first about Brian was his soft hands. One can't learn to Foxtrot without having hand contact.
Now, most weekends are spent dancing. They even joined the Moose Lodge so they could have a local place to dance. And when the couple wants to practice a step they have only to go to their private dance studio with its floating floor, which is a layer of real wood over plywood.
Jo Higgins' brother, Jim Edminster, praised his sister's ability to teach dance.
"She got me rhythm," the retired Chicago English teacher said. He went on to become a gold medal dancer.
"Dancing is very learnable," Edminster said, "especially the basic steps. Some have it, others can be taught."
Jo Higgins always had it.
"Jo is one of those obnoxious people who can look at a dance and do it," Edminster said.
As a little girl it was her father who taught her to polka by dancing with her standing on top of his feet.
She was the little girl who was always wiggling. Growing up in Junction City, she mimicked all the dancing from her culturally diverse school.
For the past 10 years, Jo Higgins has been teaching dance with Elmer Gibson. He has since retired. Brian has stepped up and is now his wife's assistant.
Anymore, preparing for class is convenient.
"Since she teaches and I assist, if we want to work out a step we don't have to move the furniture, we have somewhere to dance," Brian Higgins said.
Copyright 2018 The Lawrence Journal-World. All rights reserved. This material may not be published, broadcast, rewritten or redistributed. We strive to uphold our values for every story published.