Photo Gallery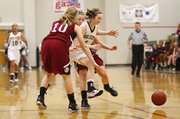 Free State girls vs. Shawnee Mission North
Photos from the girls basketball matchup between Free State High School and Shawnee Mission North on February 23, 2010.
Typically, a 15-point first-quarter cushion is enough to withstand even the fiercest of comeback attempts, and the Free State girls basketball team's Tuesday night matchup with Shawnee Mission North was no different.
Free State took a 20-5 lead after one quarter and didn't look back in its 49-24 victory, forcing 21 turnovers and allowing only four SM North players to score in what has become a typically dominant defensive effort.
"Our defense was really clicking in that first quarter," said Firebirds coach Bryan Duncan, whose team improves to 12-7 overall and 6-4 in the Sunflower League this season. "And I think the results are pretty nice when that happens."
Sophomore guard Lynn Robinson finished with a game-high 14 points — 10 of which came off 4-of-4 shooting in the first quarter — and senior Ashli Hill added 11 for the Firebirds.
"When we scored so much in the first quarter, we didn't really have to work to dig ourselves out of a hole," said Robinson, who was also 3-of-4 from three-point range. "Sometimes it's hard to stay focused (with a big lead), but we were able to stop them when they went on some mini-runs."
Free State will take on Lawrence High at 6 p.m. on Friday at LHS.
Copyright 2018 The Lawrence Journal-World. All rights reserved. This material may not be published, broadcast, rewritten or redistributed. We strive to uphold our values for every story published.