Photo Gallery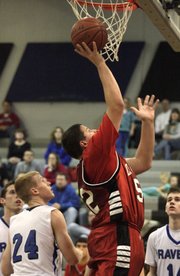 LHS boys vs. Olathe Northwest
Photos from the Lions game against Olathe Northwest on February 19, 2010.
Olathe — It's safe to say that, for Lawrence High boys basketball coach Mike Lewis, the narrow losses are beginning to take a toll.
So far this season, the Lions have lost six games by six points or fewer, and following the most recent instance — a 39-35 setback to Olathe Northwest on Friday— Lewis seemed particularly nonplused with his team's inability to close out tight games.
"Add it to the list of the ones that got away this season," he said. "There's probably about seven or eight that turned out just like this."
Friday, the Lions shot themselves in the foot early, the victims of a sluggish first quarter that left the team facing a 14-3 deficit to start. The team made just one of eight field-goal attempts in the first eight minutes — only one of those attempts came inside the three-point line — and turned the ball over four times to put itself in a hole that, in the end, proved too deep to overcome.

"Everyone came out a little flat today," said senior guard Marcus Ray, whose 10 points made him the only LHS player to reach double figures in scoring. "We didn't have a lot of energy like we usually do, and it kind of bit us in the butt in the end."
Take away the first quarter, though, and there were encouraging moments.
The team turned the ball over just three times in the final three quarters and, thanks to a strong third-quarter performance, fought back to tie the game with just under seven minutes remaining in the fourth quarter.
The score remained close the rest of the way, and a Ray lay-up with 16 seconds left pulled the Lions (4-13, 2-7 in the Sunflower League) to within two, 37-35.
But Olathe Northwest's Tyler Brotz sank two free with 10.9 seconds remaining on the Ravens' ensuing possession to put the game out of reach and prevent a Lions victory that would have provided a much-needed boost heading into today's 7 p.m. road game against Blue Valley North.
"We've just got to move on from this one," said sophomore Anthony Buffalomeat, who finished with nine points and five rebounds. "Try to get it off our shoulders and get prepared for tomorrow."
Copyright 2018 The Lawrence Journal-World. All rights reserved. This material may not be published, broadcast, rewritten or redistributed. We strive to uphold our values for every story published.