Photo Gallery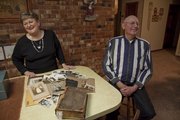 Elliott Family Bible
Photos of JoAnn and Dean Elliott's family Bible.
Survival is the name of the game in for the Elliott family Bible. Dating to 1869, when it was given as a wedding present, the Bible hasn't had the best of luck over the years, staving off extinction at least twice. Its first near-death experience came in 1925, when, during a family move, it was accidentally relegated to a trash heap. Dean's grandmother, Maude, plucked it from the rubbish pile. Since then, it's been used on the altar of every family wedding, despite nearly being wiped out a second time during the 1993 flood, when it sustained moisture damage in a water-filled North Lawrence basement.
Copyright 2018 The Lawrence Journal-World. All rights reserved. This material may not be published, broadcast, rewritten or redistributed. We strive to uphold our values for every story published.