Photo Gallery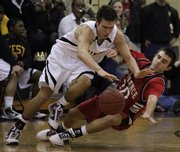 Lawrence High vs. Shawnee Mission West
Photos from the Lions' loss to Shawnee Mission West February 5, 2010.
Overland Park — For three quarters of the Lawrence High boys basketball team's 50-38 loss to Shawnee Mission West, the Lions did just about everything necessary to stay in the game.
It was the final eight minutes that didn't go particularly smoothly.
Despite trailing by just five entering the final quarter, the Lions couldn't execute down the stretch, as SM West shot 6-of-10 from the field and 6-of-8 from the free-throw line in the fourth quarter and rattled off a 12-3 run to close the game.
"We came out pretty good," said LHS guard Marcus Ray, who finished with eight points and four rebounds before fouling out late. "But then we hit the fourth quarter, and it kind of went downhill."
In the end, the difference proved to be aggressiveness. The Vikings got to the free-throw line 21 times Friday — compared to just four times for Lawrence High — and outrebounded the Lions, 21-16, while allowing just one LHS player to reach double figures in scoring.

"It was pretty frustrating tonight," said Lawrence High coach Mike Lewis, whose team fell to 3-10 and 1-4 in the Sunflower League this season. "We had some opportunities to make some good things happen, and we didn't take advantage."
There were some positives that could be plucked from the loss. Sophomore Anthony Buffalomeat scored eight of his team-high 10 points in the fourth quarter, and the Lions did a good job protecting the ball, turning it over just nine times through the first three quarters.
But Bradley Foss and Matt Kieffer combined to score 27 points on 8-of-11 shooting for Shawnee Mission West (8-5, 3-3 Sunflower League), while guard Justin Austin broke loose for eight fourth-quarter points to lead the Vikings' late surge, and the Lions failed to take advantage of a number of late-game scoring opportunities.
"We've been struggling with that lately," Buffalomeat said.
The Lions have dropped three straight since reaching the title game of the Topeka Invitational.
LHS will host SM East on Tuesday.
Copyright 2018 The Lawrence Journal-World. All rights reserved. This material may not be published, broadcast, rewritten or redistributed. We strive to uphold our values for every story published.