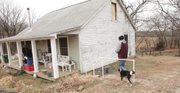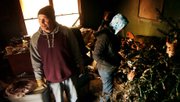 Shortly after her family's "perfect, little house" burned up, Dottie Regnier Burd stood in the blackened mess and it suddenly hit her.
"We're not going to wake up here on Christmas morning and have our traditional breakfast and gifts with our children," she thought.
Dottie, her husband Steve, their children, Michael, 23, and Lisa, 19, had lived in the white house southwest of Lecompton for eight years.
A house has been standing there for almost 100 years. The first one was built by Steve's grandparents in 1911. That one burned down and another house was rebuilt in 1942. That's the one that was gutted by flames on Sunday.
When Dottie met Steve, his grandmother was living in the house. Dottie said she remembered going into the house. "It was a house that you felt immediately comfortable in," she said. She said she thought at the time that she hoped someday to live in the house.
When the chance came, they renovated it from top to bottom, converting the attic into bedrooms for their children.
On Sunday, the family went to Topeka to eat and take in a $2 movie. But the laughs from Will Ferrell's "The Other Guys" quickly vanished when they found that Lisa's presents to her boyfriend had been stolen from their car.
They were lamenting about that when they pulled up their long driveway at 1963 E. 175 Road. Steve Burd noticed smoke pouring out of the attic vents.
He called 911 and units from Lecompton, Kanawaka and Wakarusa responded. It took several hours to put out the blaze. Steve said the cause of the fire may have been some electrical wiring.
"We lost everything," Dottie said, including two pets: a 4-month-old Yorkie and a cat.
Oddly enough, their Christmas tree didn't burn. And the outside of the house looks fine.
On Thursday, the family picked through the destruction. Dottie found Steve's wedding band, badly misshapened. Lisa found an embroidery box and a book by C.S. Lewis.
Now the family is staying at the Baymont Inn in Lawrence and waiting for their insurance company to calculate the losses. They said they eventually will rent a house in Lawrence as they rebuild their home. Steve and Michael are plumbers and Lisa has two jobs, working at Hobby Lobby in Lawrence and The Cookie Boutique in Topeka. She hopes to start classes next month to become a medical assistant.
Dottie describes herself as a stay-at-home mom who goes to town twice a week: one day for errands and one for Bible study.
On a piece of paper, she put down some of her thoughts about the fire.
"We were just saying how strange it is to have everything you own in one drawer at the motel. And just a few hours ago, we had a house full of what we thought we needed. We are still so blessed for all we have," she wrote.
Copyright 2018 The Lawrence Journal-World. All rights reserved. This material may not be published, broadcast, rewritten or redistributed. We strive to uphold our values for every story published.