Related document

KU-SIUE women's box score ( .PDF )
Photo Gallery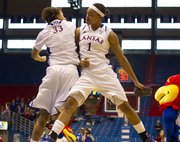 KU vs. SIU-Edwardsville
Arguably, the best thing to happen to the Kansas University women's basketball team on Sunday had little to do with the final score.
And that's not an indictment of how the Jayhawks played. KU once again won a game it was supposed to, looking dominant in its 91-52 thrashing of Southern Illinois-Edwardsville at Allen Fieldhouse.
But more important than the easy victory over the outmatched Cougars was the return of two major contributors to the Jayhawks' lineup: sophomore point guard Angel Goodrich and senior guard Marisha Brown.
"When they came back in practice, I was pretty pumped," sophomore Monica Engelman said. "And even in warmups, I was getting hyped just off of them warming up for us."
"Just to get those two back in the flow and back in the rotation is really good for us right now," coach Bonnie Henrickson said.
Goodrich, who missed seven games after undergoing arthroscopic surgery on her right knee, scored just two points, but led the Jayhawks with six assists with one turnover in 21 minutes.
"She felt good. The knee felt good. She just got a little gassed," Henrickson said. "You could tell she was huffing and puffing a little bit."
Brown returned after missing eight games because of a broken bone in her right foot, and though still hampered on the defensive end, she chipped in eight points in 13 minutes off the bench.
"She goes, 'I'm just slow,'" Henrickson said. "But her slow is still pretty quick."
The game was all but over by halftime, after the Jayhawks shot a blistering 68 percent from the floor and went to the break with a 48-21 cushion.
KU finished shooting at a 63-percent clip against 33 percent from SIUE.
Engelman led all scorers with 20 points on 9-of-12 shooting, Carolyn Davis (14 points) hit all six of her field goals, and Aishah Sutherland chipped in eight points and eight rebounds.
Tania Jackson came off the bench to post her first career double-double, with 11 points and 10 rebounds. Every Jayhawk played and scored.
Jazmin Hill, who scored 19 points, was the only Cougar who did much damage. SIUE's next-leading scorer, Valerie Finnin, added nine points, though most came too late to make a difference.
Goodrich started the game alongside Keena Mays (10 points, five assists), who thrived in a starting role during Goodrich's absence.
At times, the duo shared the court together, and each had her turn running the offense while the other was on the bench.
Two capable point guards is a great problem for Henrickson to have.
"The fact that they both can score allows us to play them both together," Henrickson said.
Goodrich doesn't mind either scenario.
"I think it's actually exciting," she said, "because either one of us can bring the ball up."
Even with the injuries to Goodrich and Brown, the Jayhawks are 10-1 thanks in large part to the job Mays and fellow freshman Diara Moore – who scored eight points Sunday – have done filling in.
"Having them be out there (getting) experience and getting more playing time, it's helped us," Goodrich said. "It's only helped us."
And now that they're back, the expectations aren't going anywhere but up.
"What team do you know that has that?" Moore said of adding pieces to an already strong team. "I think this is really good for us. Even when they were down, we were still good, and now that they're back, we're going to be even better."
Copyright 2018 The Lawrence Journal-World. All rights reserved. This material may not be published, broadcast, rewritten or redistributed. We strive to uphold our values for every story published.