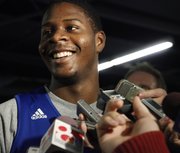 A burning question was presented to Josh Selby on Day Five of "Selby Week" on Kansas University's campus.
"Will you be wearing a headband Saturday?" Selby, KU's flashy freshman point guard from Baltimore, was asked Thursday during a 10-minute interview session with more than a dozen print, radio and TV reporters outside the famed northwest tunnel of Allen Fieldhouse.
"No," declared Selby, who wore white, blue, red and black headbands during his days at Baltimore's Lake Clifton High.
"I guess it was a rule that nobody has ever wore headbands around here. I didn't want to break that tradition," Selby added, answering, "Yep," when asked if he was OK starting his college career minus the headgear.
The 6-foot-2 combo guard, who had participated in a national media teleconference Monday, addressed a wide variety of topics Thursday — two days before his debut against USC (11 a.m., Allen Fieldhouse).
"Have you ever looked forward to a day more than this?" he was asked of Saturday's tip.
"High school graduation, that's all," Selby said.
Asked if this actually rated bigger than graduation day, he acknowledged: "Yes, to be honest. Just being my first college game ... playing for Kansas means a lot. They have great tradition, a great atmosphere. This means a lot to me and my family."
Selby also ...
• Said he weighs a solid 201 pounds after being listed 183 during the preseason.
• Said he modeled his game after Monta Ellis of the Golden State Warriors: "(He) can score, play defense, is quick, strong."
• Expects a wild reaction from the stands when he takes the court for the first time.
"From what I'm hearing it's going to go crazy. I guess I'll wait and see."
As to whether he'll start or relieve in his first college game, Selby said: "I really don't know. It doesn't matter to me if I start or come off the bench."
KU coach Bill Self reiterated that Selby would likely come off the bench.
"I doubt he starts," Self said. "The five guys that have been starting ... they've done a decent job. They've performed at a pretty high level. I haven't seen anything yet to tell me Josh deserves to start ahead of any of those guys.
"Regardless of talent and regardless of expectations and hype and all that stuff, the bottom line is you've still got to produce on the court. You've still got to be one of five and understand how to make our team better. I care about individuals, but I care a lot more about our team than individuals," Self added. "I do believe he will do that but the starting deal is a big deal with you guys (media), trust me, that doesn't even register with me. We just want to give our team the best chance."
Selby has been playing with the first unit at practice. That would be the Blue unit, which generally consists of combinations of the top rotation players.
"Me and Tyshawn (Taylor) and the (Morris) twins (Marcus, Markieff) play a lot with each other. That's usually who I'm running with," Selby said.
Fontan added: USC (6-4) also adds a player on Saturday: Gio Fontan, a 6-foot junior out of St. Anthony High in Jersey City, N.J., who was ineligible the first semester after transferring from Fordham. He's a former high school teammate of KU's Tyshawn Taylor.
Taylor referred to Fontan as "my best friend."
Bubba talk: Self was asked if he knew Tulsa AD Bubba Cunningham, who on Thursday spurned Kansas and decided to remain Hurricane AD. Self was speaking before news came out that Cunningham had signed a contract extension at the Conference USA school.
"I don't know him as anything else than Tulsa's athletic director. I don't know him well. Our paths have not crossed at TU (where Self coached), but I do like him the little I do know," Self said. "I've had a chance to visit with him, but I've had a chance to visit with a lot of candidates. I'm real impressed with the group the (search) committee has put together. If it's him, everybody around here will be happy. If it's not him, I still feel the guys I've talked to ... we can be happy with another candidate. But certainly you guys (media) have it all figured out a lot better than I do on who it is. If that is the case, I see that as a very good hire. I don't see that to be the case yet."
He's OK: Marcus Morris, who sprained his ankle in last Saturday's game against Colorado State, said he's "85-90 percent."
"My trainer told me that it's not a pain that's going to be bad for a long time, so I have to try to go out and be as tough as I can. I'm in treatment three times a day and it's getting better," Morris said.
Sherron v. 2.0?: Self had a great line, comparing Selby to Sherron Collins: "He has a lot of Sherron in him. I mean that in a good way. He thinks he's the baddest boy out there every day regardless of who else is out there with him. I think you need to have confidence like that," Self said.
Copyright 2018 The Lawrence Journal-World. All rights reserved. This material may not be published, broadcast, rewritten or redistributed. We strive to uphold our values for every story published.