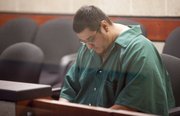 A 30-year-old Lawrence man pleaded no-contest Friday morning to two counts of child abuse after he was accused of abusing two children in September including his infant daughter.
Douglas County District Judge Michael Malone convicted Bradley W. Ford of the two felony counts after he entered the pleas.
Lawrence police investigators at an October preliminary hearing testified that Ford told them he became frustrated the night of Sept. 24 when his 6-week-old daughter was crying and threw her onto a bed, but she bounced onto the floor. The alleged incident took place at their residence in the 200 block of Pinecone Drive.
On Sept. 25, police were called by medical personnel to Children's Mercy Hospital in Kansas City, Mo., where the infant was being treated for several injuries, including broken bones.
Prosecutors had also alleged he choked his 6-year-old stepdaughter earlier that week.
According to the district attorney's office, Ford faces prison sentences of 31 to 136 months on each count, depending upon his criminal history. Malone is scheduled to sentence him on Feb. 4.
Amy McGowan, a chief assistant district attorney, prosecuted the case.
Copyright 2018 The Lawrence Journal-World. All rights reserved. This material may not be published, broadcast, rewritten or redistributed. We strive to uphold our values for every story published.