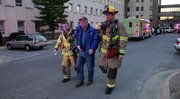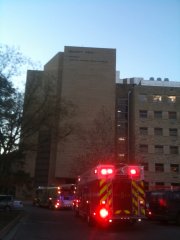 One person was taken to Lawrence Memorial Hospital and another was treated by emergency medical workers after Kansas University's Malott Hall was evacuated about 4:30 p.m. today following a report of a chemical odor inside a laboratory.
Crews were called to Malott when the chemical odor was detected in a fifth-floor lab, according to Jill Jess, university spokeswoman.
Fire and hazardous materials officials reopened the building just after 6:45 p.m., when the smell had dissipated and the air quality was determined to be safe.
Jess said two KU employees complained of headaches. One employee was taken to LMH, while the other was treated on the scene. Jess said the man's injuries were not considered to be life-threatening.
The fifth-floor chemical lab remained closed after officials opened the building, while officials continued their investigation.
"The hope is that it will be back open in the morning," Jess said.
Officials were not able to determine what substance caused the odor before it dissipated.
Throughout the incident, the area around Malott was cordoned off with police tape, and officers stood outside and blocked entrances to the building while small crowds of onlookers gathered around the scene.
Earlier this semester, a chemical spill was reported in Malott Hall involving a small amount of ammonium hydroxide, on Oct. 29. A second chemical spill caused Haworth Hall to be evacuated on Aug. 26.
Jess said the incident on Monday did not involve a chemical spill.
Copyright 2018 The Lawrence Journal-World. All rights reserved. This material may not be published, broadcast, rewritten or redistributed. We strive to uphold our values for every story published.