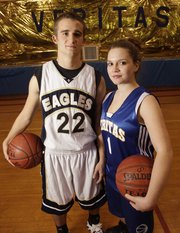 Despite watching Veritas Christian win state titles in each of its two fall sports, boys basketball coach Gary Hammer insisted he doesn't feel any additional pressure to match that kind of landmark season.
But three of his players — Ethan Kay, and Ethan and Nate Scott — played key roles on the state champion football team, so that's not to say the topic hasn't been discussed.
"They told me they want to win another one," Hammer said. "But they know there's a lot of hard work ahead of them."
The Veritas football and volleyball teams may have inadvertently set the precedent, but both Hammer's boys team and Kevin Shelton's girls team begin their seasons Thursday at the Shea Invitational in Manhattan with similar aspirations.
"I hope there's not that kind of pressure on our girls," Shelton laughed.
"I'd like to win state," he added. "It's going to be very difficult, though. We're going to give it a shot, that's for sure."
"There's more than one team that can win state," Hammer said of the boys team. "And we're one of them."
The talent appears to be in place, as both coaches return their entire roster from last season.
Besides a promising crop of sophomores that has Shelton excited, the Eagles' girls team is led by seniors Shereen Fataahi and Caysi Gatts and last year's leading scorer, junior Kayli Farley.
"I'm relying on those three to really carry a lot of the load this year and to help lead the team," Shelton said.
"We're a smaller team," Shelton added. "We don't have a lot of height, but we're going to use our quickness."
Hammer's boys team, which finished in third place at state last year, features the Scott brothers at the guard spots, Kay and Elijah Penny at forward, and 6-foot-5 sophomore Thomas Bachert at center.
"I feel like we have the talent (to win state)," Hammer said. "This is our second year together as a group. The players all are comfortable with each other and know what I expect as coach."
The Veritas girls open the Shea Invitational against Salina Christian at 4 p.m., while the boys face Smokey Valley Home Educators at 5:30 p.m.
Copyright 2018 The Lawrence Journal-World. All rights reserved. This material may not be published, broadcast, rewritten or redistributed. We strive to uphold our values for every story published.