Photo Gallery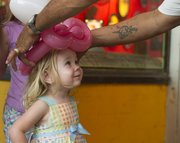 2010 Busker Fest
2010 Busker Fest
Dozens of people filled the intersection of Eighth and Massachusetts streets Friday night to watch a man juggle fire while balancing himself on a small rolling board. But moments into the opening day of Lawrence Busker Festival, the rain started pouring from the sky.
Several street performers ran for cover under umbrellas and tents, hoping the rain would stop soon so they could get back to the show. But the rain continued falling for a few hours. The organizer of the three-day event eventually had to shut down the stages that were scattered throughout downtown.
"There's a lot of pent-up frustration in the performers. They want to get out and do their thing, so they're going to be really good tomorrow (Saturday)," Richard Renner said, Busker Festival organizer.
This is the third year for the event in Lawrence. It includes a wide range of acts, such as magic, mind reading and more. Renner said last year the festival experienced record crowds. Last year's attendance may be difficult to beat with the storms putting a damper on things Friday.
The Busker Festival continues all weekend. The show starts at noon on Saturday, with acts performing at the Lawrence Public Library, Lawrence Arts Center, Lawrence Arts Center Plaza, and at intersections along Massachusetts Street, from Seventh to 10th streets. Saturday acts include aerial artists, vaudeville comedy, puppeteers, fire eating and belly dancing. Live music groups will also provide entertainment in downtown.
Busker Festival continues Sunday at noon with Richard Holmgren and the Flying Debris Show, The Wicked Liars, El Gleno Grande and juggler Periko Payaso Loko. Sunday events will be held in South Park where the Fiddling and Picking Championships will also take place.
Copyright 2018 The Lawrence Journal-World. All rights reserved. This material may not be published, broadcast, rewritten or redistributed. We strive to uphold our values for every story published.