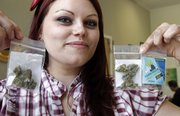 Washington — No one should be too poor to buy pot if they live in Washington, at least if the marijuana is for a medical condition. That's the conclusion of a new medical marijuana law enacted in the nation's capital.
The District of Columbia passed a law earlier this year that allows residents to legally obtain the drug for medical reasons. But it also includes a provision unlike the 14 other states with medical marijuana laws, requiring the drug to be provided at a discount to poor residents who qualify. Who will get the reduced-price marijuana and how much it will cost, however, is still being worked out.
"Obviously because there's no roadmap on how to do this, it may require some tweaking over time," said David Catania, a D.C. councilman and the chairman of the city health committee that drafted the law. "We may, in fact, set an example for other states."
The first round of regulations implementing the law is expected to be released Friday. It may answer some questions about how low-income residents will be treated, but the regulations will also be revised over several months, and patients aren't expected to be able to purchase medical marijuana in the city until 2011.
Right now the law says that patients "unable to afford a sufficient supply of medical marijuana" will be able to purchase it "on a sliding scale." Low-income patients will also get a discount on a required city registration fee. Dispensaries, meanwhile, will have to devote some revenue to providing marijuana to needy patients.
The range of what the drug will ultimately cost low-income residents is anyone's guess. On the illegal market, an ounce of marijuana can range from about $100-$140, according recent police estimates. City officials have estimated that an ounce from a dispensary will cost about $350 and that the average user will purchase about that much a month, though up to two ounces would be permitted. While one city report suggests 300 people would buy marijuana in the first year — a number some consider low — no one knows yet how many would qualify for a reduced rate. One guess is 30 percent, about the same as the percentage of the district's population that is on Medicaid.
Allen St. Pierre, the executive director of the National Organization for the Reform of Marijuana Laws, a Washington-based nonprofit that advocates for the legalization of marijuana, said the city will have to be careful that dispensary prices aren't too different from what it costs to buy marijuana illegally, a price he estimated ranges from $200 to $500 an ounce. If buying marijuana at a dispensary costs more, some people — poor patients in particular — may just keep buying illegally.
No other states require dispensaries to provide the drug at a discount, though in November residents in Berkeley, Calif., will vote on a ballot measure that could require dispensaries there to provide free marijuana to poor patients. A number of California dispensaries already voluntarily do that for patients who can prove hardship.
"I think that ethic of taking care of people who can't take care of themselves has been part of the medical cannabis movement from the beginning," said Steve DeAngelo, the executive director of Harborside Health Center in Oakland, Calif., which until recently had a program that gave out free weekly "care packages" to about 600 patients on unemployment or pensions.
Copyright 2018 The Associated Press. All rights reserved. This material may not be published, broadcast, rewritten or redistributed. We strive to uphold our values for every story published.