Most college football players get four — maybe five — cracks at the first day of fall practice.
On Wednesday, Kansas University senior Angus Quigley completed his sixth.
Photo Gallery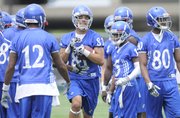 KU football practice, August 4, 2010
However, rather than shying away from the connotation associated with being one of the oldest players on the KU roster, Quigley, who was granted a sixth year of eligibility in the offseason because of two seasons lost to injury, chose to embrace it.
"I look at it like a blessing," he said. "Most guys don't get the opportunity to do that. I didn't know what I was going to do at first, but I decided to come back, and I'm happy I did. Things have been going good, and it's great to get the first day out the way."
For the most part, Wednesday's drills were just like Quigley's five previous openers.
"Camp is camp," he said. "We're staying at Naismith. It's still hot out here. We run. We still gotta lift. We have meetings and long days."
But in other ways, the final first day of his career always will be the most memorable for the sixth-year senior from Cleburne, Texas, who opens camp atop the team's depth chart at tailback.

"I think the attitude of the team is different," Quigley said. "There's more of a want to do things instead of a fear. People are more motivated."
Count Quigley as one of those people. Though the veteran running-back-turned-linebacker-turned-running-back said he tried to remain grounded heading into the 2010 season, he admitted that seeing his name in the No. 1 spot on the depth chart has boosted his spirits. Further proof that his confidence is at an all-time high comes from the 12 pounds he shed this summer, dropping from 235 pounds to 223.
"I talked to coach (Turner) Gill, and we felt like that was necessary for me to be able to do the things I need to do as a running back, be able to carry the ball more times without getting fatigued and things like that," Quigley said.
While Quigley projects the persona of a player on top of his game — both mentally and physically — he's far from content with his place on this year's team.
"There's always a confidence thing when you're projected at the top of the depth chart," he said. "But you can't really get into that type of thing because that was just spring, and this is preseason. I haven't gotten complacent. I still have to work. Toben (Opurum has) started here, Rell (Lewis has) made plays, and I've started here. So I feel like, with that type of competition, if we can get three backs that should be starters, then we can't do anything but produce."
Though Day One was a continuation of where the team left off this spring, many Jayhawks said the start of fall camp felt a lot different than spring ball.
"Guys know it's a lot closer (to the start of the season)," red-shirt freshman QB Jordan Webb said. "We know it's crunch time, and we're definitely getting after it a little more."
Added Quigley: "I wouldn't say we went harder because, when the new coaches got here, everyone was excited and wanted to show what they could do. But the mind-set's the different thing. We're getting prepared to play an opponent. We know that first game is going to come, and we're going to have to beat up on somebody else. You can tell there's a sense of urgency."
In other news Wednesday:
• Gill announced junior defensive end Travis Stephens had been dismissed from the team for academic reasons. Stephens, a junior-college transfer who red-shirted in 2009, was expected to compete for playing time this season.
• Gill and offensive coordinator Chuck Long both reiterated they had no timeline in place to pick a starting quarterback. Sophomore Kale Pick and Webb are vying for the right to replace Todd Reesing under center, and both said they were eager to find out who wins the job.
"I'd like to know as soon as possible," Pick said. "But I'm sure they'll bring it down to as close as they can to the first game."
Added Webb: "We both want to know, but we're just making ourselves better now, and I think the competition's going to pay off in the end."
Though he emphasized the decision remained Gill's to make, Long outlined his ideal scenario for picking a starter.
"The latest I've ever gone — or you'd ever want to go — is 10 days before the first game," he said. "You'd like to get them 10 days at the very latest just so... when you name that starter, he has a day or so to talk to the media and then two or three days before that game week starts. Then, he can concentrate on that game week. Again, that's going to be coach Gill. He may go that far, he may do it next week. We'll see how it all transpires."
• Citing a lack of depth along the defensive line, Gill said he could foresee a scenario in which true freshmen are thrust into the rotation early.
"There's probably going to be one or two defensive linemen who are going to play just because we lost some guys for all different types of reasons," Gill said. "But that probably is the only position that I can sit here right now and say there's going to be (freshmen) at that position that will play."
• KU officials released an updated version of the 2010 roster, which included some familiar numbers that were missing from the previous version. Sophomore safety Lubbock Smith will wear No. 1, sophomore cornerback Greg Brown will wear No. 5, and sophomore cornerback Corrigan Powell will wear No. 10. Last year, those numbers were worn by Jake Sharp, Todd Reesing and Kerry Meier, respectively.
• In injury news, senior offensive lineman Brad Thorson was held out of practice with a protective boot on his right foot, which he broke in June. Gill said he anticipated Thorson would be able to return in full within a week. Wideout Tertavian Ingram also missed practice with a boot on his right foot. Freshman linebacker Ed Fink attended practice on crutches, with the lower portion of his left wrapped in an Ace bandage, and junior fullback Steven Foster also sat out, though no mention of an injury was made. In addition, offensive lineman Jeff Spikes, who injured his Achilles tendon in July and will miss all of 2010, was at practice, as was freshman lineman Jeremiah Edwards, whose football career may be over because of a previously diagnosed heart condition.
Copyright 2018 The Lawrence Journal-World. All rights reserved. This material may not be published, broadcast, rewritten or redistributed. We strive to uphold our values for every story published.