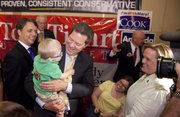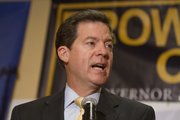 Sam Brownback easily won the Republican nomination for governor Tuesday and started to lay out plans that included a spending freeze on the state's general fund.
See a precinct by precinct breakdown of this race.
"We can't keep going down the path of more taxes, more regulation and more litigation," Brownback told an Overland Park crowd in a victory speech. "We need to be on the highway of growth, excellence in education, job opportunities and stronger families."
In November he will face Sen. Tom Holland, D-Baldwin City, who did not face a primary challenger Tuesday.
Holland has frequently tried to paint Brownback — a U.S. senator giving up his seat to run — as a Washington insider.
"For the past 16 years in Washington, there's been more debt, more gridlock and more partisanship, and we simply cannot solve these challenges by bringing a Washington politician and putting them at the head of Kansas government," Holland said.
Brownback was heavily favored over his Tuesday primary opponent, little-known Joan Heffington of Derby. The race was called early, and Brownback was getting more than 80 percent of the votes in the statewide race.
Heffington, a former home builder and Boeing Co. purchasing agent, had promised to put every bill sent to her as governor through a biblical test before signing it.
Brownback is expected to unveil his "Roadmap for Kansas" Monday.
He said one of his major goals is to redo the school finance formula, although he has provided no details on that. Brownback said he was upset by litigation surrounding school finance and that he wants to focus more on getting money to the classroom.
He also called for a state general fund spending freeze and an "Office of the Repealer to end costly and counterproductive regulation."
"This roadmap sets the stage for more jobs, better education, and supports our families," Brownback said.
Holland said the state needs to fund education to what the budget allows with the state's funding formula in place. He said the state should look at some local control issues for districts and also work on getting more dollars to the classroom.
"It's not just about cutting taxes," Holland said. "That in itself will not create job growth."
He said the state should work on making sure students are prepared to enter the work force, including in sectors that can attract employers to the state.
"Sam talks the talk, but does he walk the walk?" Holland said. "What has he demonstrated in Washington to make lives better for people both across the nation and here in Kansas?"
Brownback has chosen state Sen. Jeff Colyer, of Overland Park, as his running mate. Holland's running mate is state Sen. Kelly Kultala, of Kansas City, Kan.
10:30 update
Sam Brownback holds 82 percent of votes, with a total 206,834. Heffington has 44,198 total votes.
10:05 update
Brownback 153,976, Heffington: 34,587. 1,472 of 3,316 precincts reporting.
9:48 update
Brownback holds 131,464 votes to Heffington's 29,848.
9:32 update
Brownback holds 114,983 votes over Heffington's 26,481 with 1008 of 3,316 precincts reporting.
8:57 update
With 415 of 3,316 precincts reporting: Brownback 69,655 (81%), Heffington 16,300 (19%)
8:42 update
Brownback holds 59,673 votes to Heffington's 14,162 as of 8:42 p.m.
8:17 update
U.S. Sen. Sam Brownback has easily won the Republican nomination for Kansas governor, beating Joan Heffington with 26,763 votes to Heffinton's 5,850.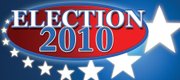 Find detailed candidate profiles, campaign finance information and complete election coverage in our Election Guide.
Brownback is giving up a Senate seat he's held since 1997. A favorite of abortion opponents, he made a brief run for the Republican presidential nomination in 2007 before dropping out.
Heffington, a former home builder and Boeing Co. purchasing agent, had been expected to get only a small percentage of the vote. She had promised to put every bill sent to her as governor through a biblical test before signing it.
The Democratic nominee for governor is state Sen. Tom Holland, of Baldwin City. He faced no primary opponent.
"I congratulate Senator Brownback on winning his primary election and I look forward to challenging him on his record of voting for billion dollar bailouts, record spending and deeper debt while Kansas families struggle to make ends meet," said Holland.
Copyright 2018 The Lawrence Journal-World. All rights reserved. This material may not be published, broadcast, rewritten or redistributed. We strive to uphold our values for every story published.