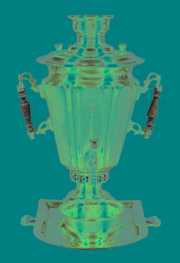 A samovar, a tall metal container that heats water to make tea, is well known in Russia but often is confusing to browsing customers at an antique show. The anatomy of the samovar, first made in Russia in about 1780, is clever. A metal — copper, brass, bronze, silver or even gold — is used to hold the heat. Although there are many body shapes for a samovar, the most common looks like a tall urn with handles and a spigot. Water is poured into the top of the urn. A metal pipe runs up the middle of the urn. The slim pipe is filled with fuel, usually lumps of coal or dried pinecones, and heats the water outside the pipe. A small smokestack is on the top of the pipe to make sure air can keep the coals burning. When the water is heated and the fire is low, a teapot is filled with hot water from the spigot and tea leaves are added. The teapot can be put on the top of the samovar's smokestack to keep the tea hot. The samovar was an almost permanent source of hot water in a Russian home. Electric samovars are made today. Old brass samovars sell for $150 to $800.
Q: I have a Spanish-style dinette set we purchased in 1967. I've never seen another one like it. It's marked "Antarenni Wrought Iron Manufacturing Corp., 76 Rochester Ave., Brooklyn 33, N.Y." Does the set have much value?
A: The label on your dinette set uses a postal code rather than a ZIP code, which means the label, at least, was made before 1963, when ZIP codes were first used. One- and two-digit postal codes were part of U.S. mailing addresses from 1943 to 1963. Antarenni Wrought Iron Manufacturing Corp. changed its name to Antarenni Industries by 1969 and appears to have gone out of business sometime in the late 1970s. It designed, manufactured and distributed wrought-iron dinette sets and chairs. Today a set of four Antarenni chairs and a matching table sells for about $125.
Q: How old is my Mickey Mouse alarm clock made by Ingersoll? Mickey's arms are the hands and move around the clock to tell the time. His head bobs, too.
A: You have a Mickey "wagging head" alarm clock, popular with collectors. It was made in about 1934. It could be worth more than $500 in good, working condition.
Q: Any special way I should display my art pottery collection to keep it safe?
A: Display the collection on wooden shelves with rounded edges, preferably behind glass doors. The sharp edge on a metal shelf can cause damage. A glass shelf must be checked annually to be sure it is not bending. A heavy load will eventually crack the shelf. There is a sticky wax that is used in areas prone to earthquakes. It holds the pottery in place. If you have a large floor-standing vase, fill it with a plastic bag of sand to keep it from tipping. Keep cats and small children away from the collection.
Q: Please tell me something about the Gettysburg Furniture Co. I have a complete dining-room set made by that company. The tag says, "Gettysburg Furniture Co., Gettysburg, Pa., made for R.M.S. Furniture Co., New Bethlehem, Pa."
A: R.M.S. Furniture Co. was the retail store that originally sold your dining-room set. A store by that name is still in business in New Bethlehem, which is in western Pennsylvania. Gettysburg Furniture Co. was in business from 1902 until 1960, although it operated under different names early in its history.
Q: I still have the toy electric iron I received when I was a child in the 1940s. It's a "Sunny Suzy" by Wolverine and is marked "Electric Iron No. 29." I even have the original box, and the UL tag is still on the iron. It works and is in perfect condition. What is it worth?
A: Wolverine Supply & Manufacturing Co., founded in Pittsburgh in 1903, introduced its Sunny Suzy "girl" toys in 1928. Various models of the Sunny Suzy electric iron, which plugged in but warmed only slightly, were first made in the early 1930s. Your Model No. 29, with its original box and tag, would sell for about $30-$50. An electric toy that heats like this probably would be considered unsafe today.
Q: I inherited a clock I would like to know more about. Inside the base of the clock, it says "Eight Day Clocks, Manufactured & Sold, Jeromes & Darrow, Bristol, Conn." It used to chime every hour but no longer does, in spite of the fact that I paid quite a sum to have it restored. Can you tell me something about the maker?
A: Jeromes & Darrow was founded by Chauncey Jerome, his brother Noble Jerome and Elijah Darrow in 1824. Chauncey Jerome worked for several different firms and in various partnerships. In 1838 Noble Jerome invented a brass 30-hour weight-driven clock movement. Earlier clocks had wooden movements. In 1850 the name of the company became Jerome Manufacturing Co. The company went bankrupt and was bought by New Haven Clock Co. in 1857. There should be a way to repair the chime. Look for an expert.
Tip: If you find an old lamp with part of a light bulb still in the socket, try this: Push a fresh potato or a wine cork down into the old socket. Turn it, and it probably will unscrew the old light bulb base.
CURRENT PRICES
Current prices are recorded from antiques shows, flea markets, sales and auctions throughout the United States. Prices vary in different locations because of local economic conditions.
• Nixon political playing cards, jokers are William F. Buckley & Norman Mailer, copyright by Politicards, 1971, $36.
• Farrah Fawcett fashion doll, white jumpsuit, white shoes, Mego Corp., dated 1977, 10 inches, $99.
• Bestmaid Crawling Baby toy, windup, celluloid, pouty mouth, rosy cheeks, blue eyes, white polka dot outfit, Japan, 1940s, 6 1/4 x 4 5/8 inches, $235.
• Liverpool charger, scalloped and feather edge, scene with pagoda surrounded by trees, early 19th century, 14 1/4 inches, $288.
• General Electric Co.'s National Mazda Lamps calendar, woman in purple one-piece bathing suit, red cover-up, 1927, 14 x 11 inches, $468.
• Sony Micro Transistor Television, carrying case, AC cord, earphone, manual, 1965, 5-inch screen, $475.
• Handel bronze and green Mosserine glass desk lamp, stamped mark on base, c. 1910, 15 x 12 inches, $597.
Copyright 2018 The Lawrence Journal-World. All rights reserved. This material may not be published, broadcast, rewritten or redistributed. We strive to uphold our values for every story published.