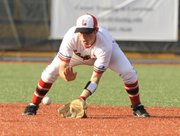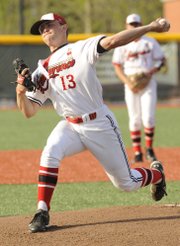 Matt Sutliffe dished a dose of humility after making history.
On Monday night, Sutliffe, a sophomore outfielder, became the first Lawrence High baseball player to homer in the Lions' new stadium.
"It's a little bit humbling," Sutliffe said after his two-run shot over the right-center-field fence during the Lions' 7-3 victory over Olathe South. "This is such a great program."
Sutliffe was a freshman at South Junior High and a JV player last spring when the Lions captured the Class 6A state championship, but the young left-handed hitter is a full-fledged member of the varsity now.
"We've been watching him do that in practice for two months," senior Albert Minnis said of Sutliffe's homer, "so it was just a matter of time … and I promise you there'll be a lot more."
Sutliffe picked on a 3-2 pitch from O-South right-hander Travis Mills with Ross Johnson on second base in the third inning.
"That's kind of cool he had the first home run here," Lions' coach Brad Stoll said. "He crushed it."
Said Sutliffe: "He threw it right down the middle. I took a hack, and it went 350 feet."
Two innings later, with runners on first and second, Sutliffe went the other way and drilled a line drive down the left-field line for a run-scoring double. Of the Lions' six hits, Sutliffe's were the only ones for extra bases.
"He has a chance to be a really, really nice hitter," Stoll said. "We're excited about him."
Sutliffe's hitting helped the Lions survive a game in which Minnis, their top pitcher, struggled at times. Minnis surrendered only three hits, but he walked three, hit a couple of batters and threw 101 pitches in six innings.
"He ran more full counts that we'd like to see him avoid," Stoll said. "His slider is so good that hitters will try to go deep in the count against him."
Minnis surrendered all three hits in the fourth inning — a pair of doubles and a single that accounted for two runs. Two frames earlier, the senior left-hander had walked the first two hitters, and one later scored on a passed ball.
"My control wasn't there the whole time," Minnis said, "and when you don't have your A game, you just have to work harder."
Minnis was able to work out of both jams and junior right-hander Jake Johnson pitched a 1-2-3 seventh.
Next for the Lions (3-3) will be the River City Festival. Lawrence's first game will be at 4 p.m. Thursday at KU's Hoglund Ballpark against Lee's Summit, Mo., West.
Copyright 2018 The Lawrence Journal-World. All rights reserved. This material may not be published, broadcast, rewritten or redistributed. We strive to uphold our values for every story published.