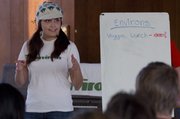 It's hard to predict the future, but in 2001, an economist with the Bureau of Labor Statistics tried. Daniel Hecker said the jobs with the biggest growth in employment in 2010 would be in the computer and medical sector, especially software developers. Now it's here, and he's a bit off.
Wendy Shoemaker, senior associate director of the University Career Center at Kansas University, doesn't have to predict the future; she sees what the popular careers are every day when students come in for career advice. Careers in the green industry, entrepreneurship and social media are all hot today, she says.
"We are in a transition in the economy," she said. "There are being positions born now as we think."
The green industry is emerging, Shoemaker says. Like any industry, it needs people in all types of positions, including accounting, human resources, sales and marketing. That means it offers a lot of opportunity for people who are job hunting.
Kim Hernandez, a Hutchinson senior at Kansas University, has already worked in a "green" job for Chevron Energy Solutions her sophomore year, and hopes to work in a green job again someday.
Hernandez has always cared about the environment, crediting her inspiration to a great high school biology teacher. She's now vice president of KU Environs, an environmental awareness group on campus. She's also not surprised that green jobs are becoming popular.
"I think that people are starting to realize how important it is to take care of our Earth," she said.
Chevron Energy Solutions put Hernandez' environmental coursework to use. She monitored energy use in campus buildings, turned off unused lights and worked to make classes use less energy for heating and cooling.
Hernandez plans to attend graduate school soon, so she won't be jumping into the environmental industry right away. She's not worried about its popularity going away soon, though.
"There are so many things I could do with my environmental studies degree," she said.
Entrepreneurial jobs are another popular option right now, according to Schumaker. KU School of Business offers classes in entrepreneurship that are open to all students, and the class list includes the likes of New Venture Creation and Management of Small Business. It also works with the KU Small Business Development Center off-campus. Shoemaker says people wanting to start their own businesses need to realize what they're getting into.
"You need to go in with your eyes wide open and know what you're doing," she said. "You need to take at least one formal class."
That's what Jason Mandel, a Chicago sophomore, is doing. Mandel is working to open a late-night food stand business similar to one he had seen at the University of Iowa. Mandel, whose major is in finance with a concentration in entrepreneurship, already did some self-employed work while in high school, so the decision to continue it here was natural.
"I hate having a boss," he said. "I like being able to do whatever you want."
With the help of the KU Small Business Development Center, he's developed a business plan. He knows he wants to serve food like hamburgers, hot dogs and grilled cheese. Now he is submitting a letter of intent to the city to change an ordinance so he can run his business. Mandel says that for him and his peers, opening a business is a desire that is passed down from parents.
"I don't know a lot of us in service jobs," he said. "We're the kids of baby boomers, and a lot of them started businesses."
Shoemaker says other hot jobs are in social media. She said people who don't know what social media is should learn how to use it.
"You should know what skills are hot," she said. "It's not enough to say, 'Hey, I have a Twitter account and Facebook account. Hire me.'"
She said there were a number of how-tos available online for people who wanted more information about social media. People have to look for an opportunity to use social media, she said. And it can be used in all disciplines, and that's one reason why it's a growing industry.
These three industries are hot, Shoemaker said, and students are getting jobs despite the economy.
"It's just not as hot as it used to be," she said.
Copyright 2018 The Lawrence Journal-World. All rights reserved. This material may not be published, broadcast, rewritten or redistributed. We strive to uphold our values for every story published.